Training using a heavy bag is an exemplary technique for improving the attacking strategies like the punch strength and the attacking speed along with the learning of the counter striking skill. No matter whether you are learning boxing, karate, any martial arts or just strengthening your punches for the fitness routines, you need a good havy bag to get the training.
Thus, it is an essential equipment for achieving a powerful punch and even the kicks. But you should have the best heavy bag for home gym for this purpose because it is quite an investment. Moreover, you certainly do not want to waste your money by purchasing an ordinary model from the market.
There are some types from which you can make a selection according to the kind of skill you want training and your budget. Here I will give you a full guide:
List and compare the best rated heavy bags based on price, reviews and who they are good for.
I give honest reviews on the models.
You will learn what features to look for when shopping for a bag.
I answer the most frequent questions and give solutions to problems.
Best Heavy Bags Comparison by Features and Price
RANK
PICTURE
NAME
MY RATING
Price
Shopping

#1

Professional & Versatile

Outslayer Muay Thai Heavy Punching Bag

Heavy duty vinyl cover
Special fabric filling up to 300 lbs
130 lbs
14 x 14 x 72 inches
Long so perfect for any martial art

$134.95

#2

Great Boxing Experience

​Outslayer 100 lb heavy bag

Heavy duty vinyl cover
Special fabric filling
100 lbs
55 inches body length, 14″ diameter
Perfect for even advanced boxing workout

$364.95

#3

best Standing Punching Bag for gyms

​Ringside Elite Freestanding Bag

Durable synthetic leather shell
Foam filling with shock absorbency
270 lbs when the base is filled
6'4" tall
The most stable gym quality standing bag

$303.25

#4

Best Buy Home Standing Bag

Century Wavemaster XXL

Durable vinyl cover
High-density foam fill
270 pounds when fully filled
69 inches tall, 18 inches in diameter
The best freestanding kickboxing bag for home use

$359.99

#5

Comfortable hitting surface

Ringside Powerhide

Premium synthetic leather shell
Shredded fiber filling (powerhide material)
100 lbs
Measures 14″ x 42″
Providing a comfortable striking surface for professional and amateur boxers

$174.41

#6

Lightweight Set – Good for Teens

Ringside Heavy Bag Kit

Heavy duty vinyl cover
Natural and synthetic fibers filling
50 lbs
45″ body length, 15″ diameter
Light so better for teens and women
Includes bag, gloves and wraps

$67.99

#7

Affordable Standing Bag

Everlast PowerCore

Vinyl cover
Tri-disc foam structure filling
250 lbs when base is filled
Adjustable height from 52 to 65 inches
Beginner level standing bag

Price not available

#8

Good price/value

Everlast 70-Pound MMA Kit

Synthetic leather cover
Natural and synthetic fibers blended with sifted sand.
70 lbs
Measurements: 41H x 12W
Good beginner level set.

$220.00

#9

Unfilled

Last Punch Indoor Boxing Bag

Canvas shell
Fill it with whatever you want. (clothes, fabric, sand, etc.)
Max weight about 70-80 lb
48″ long with chains, 33″ without chains
Only if you need unfilled bag

$31.99
Home Boxing Bag Reviews
1. Outslayer Muay Thai Heavy Bag (Red, 130 Pounds)
If you are looking for a professional punching bag with an ideal body that is perfect for boxing and other strength exercises, Muay Thai Heavy Bag from the Outslayer Professional Fight Gear would be the best heavy bag you can get.
This bag is 72 inches in length with an additional 12 inches long straps for hanging it. You can extend the bag length by varying the straps.
The weight is 130 pound which is quite enough for the boxers and heavyweight champions. The outer cover is strong imported vinyl that can bear extreme strikes easily.
Moreover, it is available with a 10 years warranty which means that you do not have to worry about your investment.
It is the best MMA heavy bag on this list. Read the full review.
2. Outslayer Boxing/MMA 100 pound Heavy Bag (Filled)
If you are searching for a home heavy bag for boxing at an affordable price range and reasonable weight, this is what you want. This 100 lbs weighting bag is more than enough for boxing training by an averaged height and weighted male person.
Moreover, the height of it is perfect which is 55 inches and 10 inches additional for the straps. It is shipped in a reusable heavy duty vinyl cover which can be used for storage and for moving it from one place to another.
Along with that, it is also available with a 10-year warranty card for ultimate coverage. The warranty covers everything just not the normal wear and tear of it. You can purchase all this for affordable price with free shipping on Amazon. Read the full review.
3. Ringside Elite Heavy Bag
Well, this is the ultimate equipment for any level and any training. No matter what kind of martial arts you do, or how heavy you are, Ringside Elite will be your partner. It is maybe the highest quality product available today used by top fighters and trainers all over the world. Ringside Elite is on my wishlist. Read the detailed review.
4 . Century Wavemaster XXL Training Bag
Are you searching for a more versatile heavy bag to develop your martial art skills? Then Century Wavemaster is maybe the solution for you. It can be filled with water or sand, no assembly required and made from durable material. Even if it is a freestanding model, Wavemaster is stable. It does not fall even if it is punched hard. Read the detailed review.
5. Ringside Powerhide Heavy Bag
In case you want a softly filled bag, then this model is for you. It can be beneficial if you have problems with your wrist or fingers, but you do not want to give up the heavy bag training. But, you still have to use boxing gloves. Customers like its body. See the full review.
6. Ringside Boxing Bag Kit
Do you want to buy an even more reasonable and lower priced heavy bag for home gym but want quality in that price tag? Ringside Boxing Kit is maybe for you. It weighs 70 pounds which is perfect for an average male person.
Moreover, its length and width are also ideal for every sort of training including boxing, muscle toning, practicing and regular fitness, etc. The outer material is made from a heavy duty vinyl which is filled with natural and synthetic fibers so that the material may not sink after a few hits.
​You will get ​boxing gloves with the hand wraps along with the package. A swivel and mounting clip is also included helping you to mount it. This Ringside bag is a great solution for beginners. Rull review.
7. Everlast PowerCore Freestanding Heavy Bag
This Everlast heavy bag is a freestanding punching bag for practicing punches and kicks alike. It offers ease of assembly so that you do not have to call for technicians to install it.
Moreover, the design is also much improved from the previous version and increased strength. It also offers better impact and absorption along with the recoil for learning the counter striking skill.
However, you also need to keep in mind that this product has some negative reviews as well. The price is around $100 which is ok for a mobile heavy bag but do not forget to read the reviews for some details. Read the detailed review.
8. Everlast 70-Pound ​Boxing Set
Well, if you are searching for a beginner level heavy bag kit that comes with all the accessories, then this Everlast product is the way to go. You get a high-quality punch bag, gloves, wraps and a customizable chain. Hence, you will have everything to start boxing training immediately. Plus, the price is affordable, too. I think, it is the best punching bag for beginners. Detailed review.
9. Last Punch Punch Bag
This cheap canvas heavy bag is available just for some bucks, and in case you search for for the minimal price, this model is ideal for you. The length is 33 inches that along with 55 inches including the length of chains.
It is 18 inches wide, so the dimensions are ideal for beginners. This model is perfect for practicing boxing, and you also have the freedom of filling it with any material including cotton, plastic bags, old clothes, foam, etc. Read the review.
What types of punching bags are there?
Choosing the most appropriate model from the lot is not an easy task. There is quite a long list of heavy bags available in the market, and one can easily get puzzled which one to select from the lot.
Well, for purchasing the most suitable for training, you should know about the different types available in the market so that you can make an intelligent selection.
To choose the best punching bags for your exercise or training, you should know about the various models available for making a selection. Below are listed the different types you can choose from:
Heavy Bags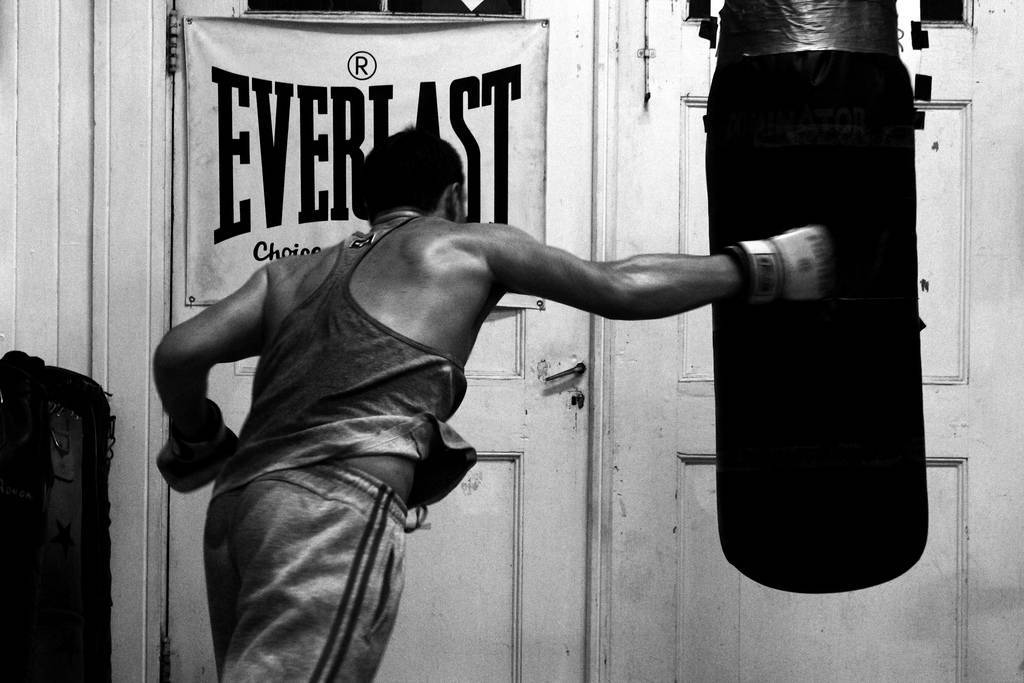 If you need one for strength training, either for punches or kicks, you should get heavy boxing equipment. It should be the right weight for achieving the power and muscle toning you are looking for.
They are the top choice for providing weight resistance without being excessively harsh and strong. But you must select a suitable weight option as the wrong selection can also injure your hand and knuckles.
Sand or water are basically the two materials that are used to fill them. It is important to choose the material appropriately.
Where sand selection offers more durability, water is used for achieving variable weight exercises and have better kickback ability.
You also have a choice to make among the freestanding and hanging heavy punching bag types according to the usage. The free standing bag is an all-rounder unit but is ideal for kicking exercises. However, you can also perform punching exercises with equal as well.
As for the hanging heavy bags are concerned, such ​boxing equipment is good for power and speed striking. They are the best options in the areas where floor space is smaller.
Speed bags
For achieving speed in your punches, speed bags are needed. They are filled with air. Hence, they are excellent at bouncing back quickly whenever they are hit with power.
They are ideal for developing hand and eye coordination along with the speed and synchronization. They need to be mounted on ceilings or walls so that they cannot move freely.
Check out the best speed bags here
Uppercut bag
It is a mini version of the heavy bag that is used for the waist level training. This type is mounted parallel to the wall so that the person can practice striking beginning from the waist level and moving towards the chin level (uppercuts). A dedicated space is required for these models to be mounted.
Double-ended bag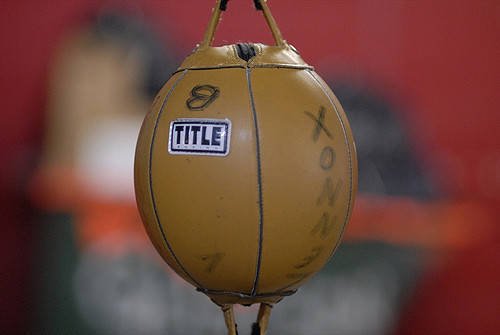 This type has two strings attached to its both ends which are used to tie it one side to the floor and other one to the ceiling. The size of them is just equivalent to the size of a basketball or smaller.
Double end bags are ideal for practicing counter striking skills. Moreover, it needs to be mounted permanently, so a dedicated floor space is required here.
Which type is for you?
If you need strength workouts for punches and muscle toning, hanging boxing bags should be chosen. However, if you want to train your high and low kicks along with some punch training, a freestanding heavy bag is ideal for purchase.
If you want to practice speed and hand to eye coordination, a speed bag should be chosen. And in a case of practicing counter striking skills, the double-ended bag would be the right for you. Uppercut ones are not very commonly used but can be a useful training for real fighters.
What to look for when buying heavy bag?
There are some factors that you should keep an eye on while making a purchase of the best boxing bag. Ranging from the brand to the type and cost to the size, each and every factor is quite important.
Below are listed the different factors that you should look for:
Heavy bag weight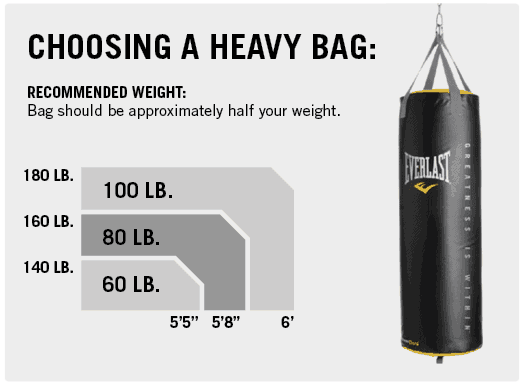 The weight is critical for a great experience. A punch bag that is too light will not give you the constant resistance that you should have for strength training and muscle toning. Whereas one which is too heavy will hurt your hand, fingers, and knuckles. Therefore choosing a proper weight is quite important for making a selection.
​The weight should be selected based on the height and weight of the user. An average male is 5 feet 10 inches high and weighed around about 190 pounds. A model weighing around 50 to 70 pounds is ideal for an average height and weighed male.
If the person is smaller, a lighter than 70 pound should be purchased. And if the person is taller, an increased weight heavy bag is used. But the weight should not exceed 100-pound mark in most of the cases.
For the users who need varying weights depending upon the intensity of the exercises, a water filled bag should be selected. The weight can be increased or decreased by adding or removing the quantity of water. For other types, the weight is not needed to be adjusted because they are fairly standardized.
Build & Material
The important factor to consider while buying a traditional heavy bag is the build and material of the punch bag. This aspect will determine how long your equipment can last and how many punches it can actually take.
What is the best punching bag material?
The outer cover should be sturdy enough so that it may not tear easily. Usually, leather, heavy duty vinyl, or synthetic leather is used as outer stuff. The leather heavy bag is ideal as it is sturdy and gives you a more pain-free and comfortable experience. However, the cost of leather is usually higher as compared to the other materials. The other option is vinyl. Vinyl is made similar to the leather, but the feel and experience would not be exactly the same. The vinyl products are, however, low in price which is the main advantage.
The inner element is also essential. If the punch bag is poor quality, the filling will sink after a few beatings. It will start to sink to the bottom leaving the upper portion non-padded which may hurt your hands. For a good heavy bag, such filling should be used which does not sink or gets softer after a while.
The best heavy bags are usually filled with fiber type materials that are inserted properly so that it may not sink.
The sand usually sinks and settle at the bottom. Water bag is maybe the most suitable as it gives you the feeling of actually hitting a live person.
Brand
When it comes to purchasing the workout and boxing equipment, brands have a special place. You should definitely look for products offered by some reputable and experienced brand in the manufacturing of combat sports equipment.
Some popular traditional heavy bag manufacturers that often provide the highest quality models are Everlast, Ringside, Century, etc. You can find cheap to expensive products from these brands.
Mounting & Storage
The mounting and storage is also important to notice as you are going to need that after the purchase. If you are choosing a hanging heavy bag, you need a dedicated location to hang it in the room. The location should be sturdy enough to hold the bag correctly and firmly. But you can also get a home boxing stand which is the simplest solution.
If you are focusing on buying a bag that can be used outdoors, a proper model should be used as the traditional bag cannot bear rain and mold may start growing in it. Based on the mounting and storage options you have, choose a model intelligently.
What are the typical problems with heavy bags?
We can put the problems into two groups: the quality of the bag and the installation.
If the bag isn't made of durable materials, the shell tears quickly, straps break, and the inner filling sinks to the bottom. Typically, we can experience these problems when we buy a cheap heavy bag. If you are serious about combat sports, you should buy a quality bag suitable for your weight and power.
The other problem is the way we hang the bag. We need a solid anchor point. Never fix the bag to a weak beam or ceiling. If you have no safe option to hang your bag, it's better to buy a heavy bag stand. I also asked for the help of an expert when I got my heavy bag.
FAQ
Are heavy bags typically unfilled or filled?
That depends on which product you choose. If you don't want to customize the filling or don't want to spend time with it, you'd better get a filled heavy bag. Otherwise, if you want to customize the weight or softness of the bag, get an unfilled one. Keep in mind, for filling you need various materials such as clothes, foam, sand, shavings.
Do I need to use boxing gloves for a heavy bag?
A heavy punching bag typically has a hard punching surface. A poorly placed punch on the bag results in hand, wrist, and finger injuries. Hence, it's crucial to wear boxing gloves and hand wraps. They protect the small bones, joints, and skin of the hands and wrists.
How to mount a hanging heavy punching bag?
The simplest way to install training bags is using a heavy bag stand. However, a stand rattles, and we don't have full space around the bag as if it was hung from the ceiling. Hanging punching bags are typically attached to the ceiling by using an eye bolt anchor. We connect the hook to the eye bolt, and we attach the metal chains on this hook. Of course, can also buy hanging set for various installation. Keep in mind that a boxing bag is heavy and swing careful installation, and plenty of space is required. You can find many tutorials on how to hang the bag.
How to keep a leather boxing bag durable?
While genuine leather heavy bag gives the best workout experience, they require maintenance. We shouldn't let the leather to try out, but moisture also damages this type of shell. After every workout, you should wipe it. Also, don't use where humidity is high. Every month use a leather conditioner that keeps the leather bag "healthy."
How the size affects the training?
It's recommended to get a bag which is half of your weight. Lighter heavy bags swing more, so they force us to move more, which is good to practice footwork, ducking, slipping, reaction time, etc. But, we can't practice power punches. More massive punching bags don't swing as much, but they stand more powerful hits so that we can develop punching power with them.
Which is a better hanging heavy bag or a freestanding punching bag?
Both have their pros and cons. The main benefit of a freestanding bag is that it doesn't require installation, and we can relocate them. But, they are more willing to fall over or break. Hanging heavy bags gives the best boxing workout, but the installation sometimes complicated. For serious boxing and kicking, a hanging bag is the best option.
What is the best heavy bag for beginners?
As I mentioned before, we need to pick a heavy bag that weighs half of our body weight. For beginners, I recommend buying a lighter one, about minus 20-30%. Beginners should learn the basics of boxing first and shouldn't care about improving punching power. A bag that swings is better for improving the technique and doesn't allow the user to strike with big power.
Where to buy heavy bags?
As you see above, I recommend Amazon since the selection is huge and the prices aren't bad. You can also check out the official webstore of the brand. You may find lower prices there. Finally, if you are on a budget, you can also consider buying a used heavy bag, but I recommend checking out personally.
Conclusion
Within the post above, I tried to list the best heavy bags for various purposes. If you are a beginner, you can get a cheaper bag, but advanced athletes must stick to more expensive quality bags. If you have a lack of space, you can also buy a standing bag.
Still, don't know what the best heavy bag is for you? Feel free to ask below within the comment section, and I help you asap.