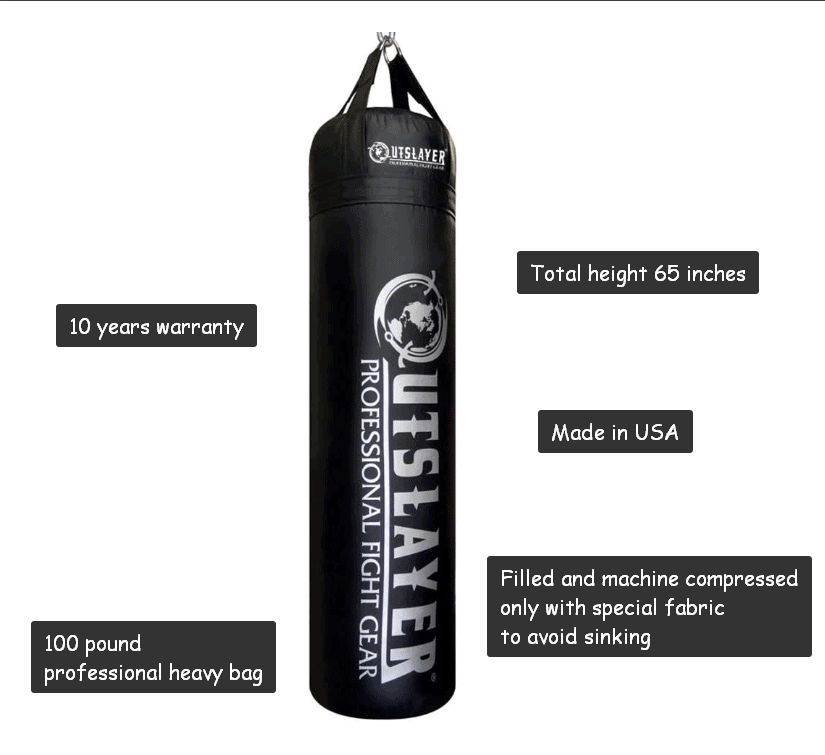 Finding a perfectly weighted heavy punching bag is not an easy task, but with the new filled boxing and MMA 100 lbs standard heavy bag, you can get what you are searching for at just the right price. This model is offered by the Outslayer, a reliable name in the fighting equipment industry.
This 100 pounds weighing model is made in the USA and is available with a warranty of 10 years covering everything except the weather damage and the external damage because of using sharp objects.
If you need a filled heavy bag for practicing fitness, martial arts, MMA training, or boxing, this product is perfect. The height is just ideal, 55 inches, and includes the 10 inches of straps. The total height can be extended to 65 inches easily.
The MMA punching bag is shipped with a heavy-duty vinyl cover that is totally reusable. You can use it to drag it wherever you want and also deploy it to keep the bag scratch-free. Moreover, the size is also ideal for storage anywhere, having little space as well.
---
Features
This particular model from the Outslayer is a surprise because of its exceptional features at just a reasonable price tag.
Below are listed all the incredible features of this 100 lbs. filled bag for boxing and MMA.
1. Ideal Weight
The weight is 100 pounds which is ideal for almost every person, with a height between 5 feet 5 inches to 6 inches. According to my research, a heavy punching bag weighing 70 pounds would be perfect for an average male person having a height of 5 feet 10 inches and a weight of 190 lbs.
This means that every person can use this 100 lbs bag with equal ease and comfort.
2. Outstanding Quality
The Outslayer 100 lb punching bag is a professional quality heavy duty product made in the USA, delivering excellence and comfort for all athletes and users worldwide. The heavy-duty vinyl shell is durable, resistant to moisture, and dry. The bag is filled and machine stuffed with fabric, providing the perfect density for punches and kicks.
3. 10-year warranty
If you fear that your investment is at risk, remember that Outslayer is offering a 10-year money-back guarantee so that you can freely trust the quality. The warranty covers all the damage except for the normal wear and tear because of weather conditions and by using sharp tools or objects.
4. Perfect for any type of combat sports
Whether you want to practice martial arts or need a bag for MMA training, or are looking for equipment for boxing practice or maintaining the body's fitness, this model is ideal for every training.
5. Perfect height
The body length is approximately 55 inches with an additional 10 inches length of the straps, so the total length can be extended to 65 inches which can be adjusted by varying the heavy-duty strap lengths.
6. Reusable vinyl cover
If the above-listed features are not enough, this MMA heavy bag is shipped in the reusable heavy-duty vinyl cover, which is used to keep and store it scratch-free and for dragging it wherever you need it to be.
About Outslayer
Outslayer is a well-known manufacturer specializing in fighting gears and accessories in the USA. Quality is an essential point for Outslayer. Their products are well-designed, provide a perfect user experience, and are durable. They give 10 years warranty for their products. Outslayer produces professional heavy bags, boxing gloves, grappling dummies, pads, and everything else required for combat sports.
Pros
According to my personal experience, not a single manufacturers offer such an amazing and long-time warranty for their products as this bag has. I mean, 10 years of money-back guarantee does speak for itself, and I found it the biggest pros of this product
Who does not need an extra layer of protection for their equipment? With the additional heavy-duty vinyl cover offered along with it. It is much easier to move it from one place to another. Moreover, it is also helping me to keep it brand new.
Suitable for practicing all sorts of combat sports. Also, this classic hanging heavy bag is suitable for everyone from heavy hitters to beginners.
Cons
Compared to other heavy bags for home, it costs more. However, we are talking about a gym-quality bag with professional features and a 10-year warranty.
Is the Outslayer 100-pound heavy bag for you?
This bag is suitable for big guys or someone who wants to improve punching power. Considering that the weight of a bag should behalf on the user's weight, this heavy bag suits a guy over 180 lb. I don't recommend it for lighter users since they'll have felt as if they were punching a concrete wall.
FAQ
Do you need to buy hanging hardware?
Yes, this Outslayer bag comes without any accessories required for hanging. Depending on where you want to hang it, you need to buy the right hanging hardware and have the tools. On the other hand, if you don't want to bother with installation, you can get a heavy bag stand from Outslayer, also top-notch equipment.
Related: Top 100 pounds heavy bags for home
Similar products
[content-egg module=Amazon template=list_no_price groups="Related"]