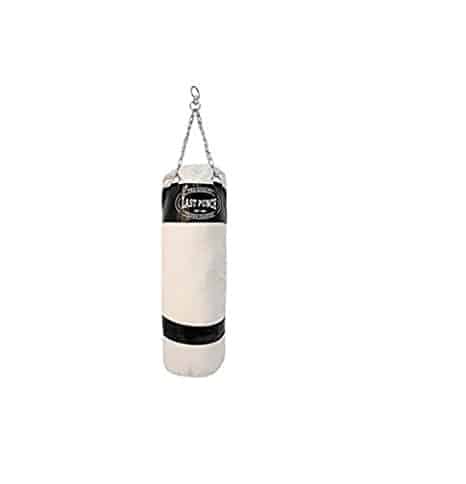 Are you searching for a cheap punching bag? Are you looking for an amazing unfilled heavy bag for beginners? Are you tired of looking everywhere but could not find the one you are looking for?
Well, stop searching and go for the Last Punch Heavy Duty Punching Bag with Chains. This incredible mini punching bag from the top seller Lastworld is the one you are looking for at an extremely reasonable price.
The cost is just $25, and the shipping will be absolutely free when you order above $49. Isn't the price surprising? It is made from the heavy-duty professional quality canvas, which you can use anything to fill with.
If you are looking for an empty heavy bag for regular training, especially for boxing, it will serve the best purpose. It is made of canvas and comes with chains that are used for changing the length of the bag.
The length is 33 inches which is enough for beginners and can be extended up to 55 inches using the long chains. Moreover, the width of it is 18 inches. Isn't the dimensions ideal for a boxing trainer?
You can fill it up with old clothes, plastic, and even cotton to make it work and it will help you perform your practicing sessions without any trouble.
Features
Just like any other product, this Last Punch bag is also equipped with a plethora of features that are certainly must to see. Below are listed the surprising features of this model from Lastworld:
1. Professional quality material
For practicing boxing and hitting, you certainly need a heavy punching bag made of sturdy yet smooth material so that you can gain strength and muscle toning without putting much effort along with the comfortable feel of the material. All of these things are kept in mind while designing this product. It is made from a professional quality heavy-duty canvas.
2. Best for boxing
If you are specifically looking for practicing your boxing sessions, it is certainly the one you are looking for.
3. Hold everything
You do not have to be specific while selecting the material to fill it as it can hold any type of material. So you can stuff it up with cotton, plastic materials, and even old clothes to begin your training.
Related: Punch bag filler tips
4. Ideal length
The length is also perfect for beginners and teenagers. The height of this model is 33 inches which can be increased by varying the lengths of the chains attached to it.
The maximum height that can be achieved using the chains is 55 inches. The width is also just perfect, that is 18 inches.
Pros & Cons
Let us discuss the pros and cons of this Last Punch Heavy Duty Bag with Chains:
The pros
If you are searching for equipment for beginners, this one is just the perfect piece.
You cannot find such an affordable model like this one. You can purchase it for under $30, which is a total surprise undoubtedly.
Good Fit for Medium Height Persons
Because of its lower length, this can be a perfect fit for medium height persons ranging between 5 feet to 5 feet 7 inches.
Cons
Some people are irritated because of this disadvantage. After filling this canvas punch bag up with the material, it tears away after 2 to 4 days for some people.
The zip opening for filling it is quite small, and often you can get your hand stuck inside and break even with a mild pull.
Conclusion
I would give a 3.5 star rating to it because of some minor faults like the material (canvas) that tears away easily and the issues customers have to face for filling it up.
Moreover, it is difficult for finding a less length model for the medium heightened persons, so its length would suit some who are looking for one. You should give this empty canvas punching bag a try.