Suppose you search for a freestanding model of a heavy punching bag at a reasonable price for home use. In that case, you should give Everlast PowerCore Freestanding Heavy Bag a try.
Freestanding equipment is ideal for kicking exercise, but it can also be used for punching training because of its double-facing bags. Everlast Powercore has an improved design with excessive strength to get the best practice for both your punches and kicks.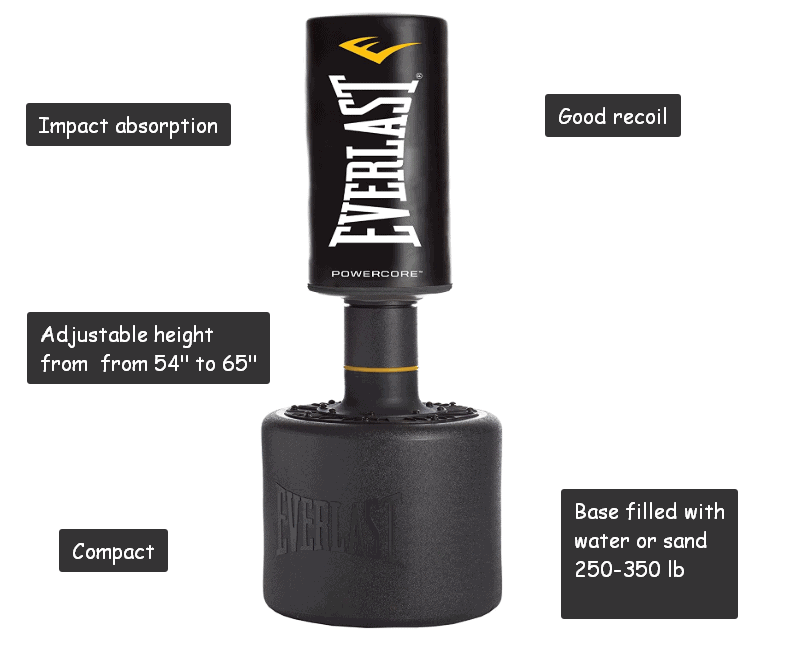 It also provides you the ease of assembly so that you do not have to add much effort while assembling it. Its tri-disc foam manufacturing provides energy dispersion to its fullest for extreme strength exercising.
Specifications:
| Feature | Info |
| --- | --- |
| Weight | About 300 lbs (depending on sand or water filling) |
| Height levels | Adjustable from 52" to 65" |
| Filling | Shock-absorbing tri-disc foam structure |
| Exterior | NEVATEAR outer layer (synthetic material) |
| Diameter | 23 inches |
The Power Transfer Ring Collar offers ideal impact absorption with a perfect recoil for speed and counter striking training.
The new and advanced Power Core steel plate technology used in it is perfect for improving the bag's overall strength. Moreover, its compact base increases accessibility for easy hitting and punching.
In short, this Everlast PowerCore is an ideal freestanding punching bag for someone who wants to train at home and does not require an ultra-robust piece of training equipment. This reflex bag is good for medium power strikes, regular training, and cardio conditioning. A professional fighter needs a more robust bag for power strikes.
Overview of the features
For a fantastic list of features that this advanced technology Everlast freestanding bag offers, check this list below:
Improved Design & Strength
This freestanding model is made better not only in quality but also got improvements in its design and built as well. With its better design, it provides more strength.
You do not have to call a mechanic to assemble it for training once the model arrives at your doorstep. It offers quite an ease of assembly to put together the model yourself. However, some non-techie people found it hard.
Maximum Energy Dispersion
This Everlast Powercore Punching bag offers maximum energy dispersion to train with full power and strength with its new and advanced tri-disc support.
Because of its Power Transfer Ring Collar, this equipment offers excellent recoil and better impact and absorption for an incredible kicking and punching experience.
Increased Overall Strength
Along with the other incredible features, the installed Power Core steel plate improves the overall strength making it more durable and ideal for training. Also, the Everlast freestanding punching bag is made of high-density plastic.
Moreover, for increased accessibility, it is available with a compact base. So, it is a complete package with just the right amount of price.
The weight of the Everlast Powercore freestanding punching bag depends on how much water or sand we fill in the base. Hence, we can tweak it to our needs. However, the heavier the base, the more stable the equipment is, so it's worth filling it up totally. With water, the maximum weight is 250 lb. With sand 350 lb.
The external coating of the standing Powercore is a material called Nevatear which is a combination of vinyl and synthetic leather. That combination is durable and gives a convenient hitting surface. It resists water and dryness. However, this is still an indoor freestanding punching bag, so don't use it outdoor.
Get the perfect height for you
The adjustable height is a useful feature as we can adjust the Everlast Powercore bag to our needs, and others can tweak it for themselves. The height can be adjusted from 52 to 65 inches. The adjustment is easy since we only need to turn the neck of the bag to set the height.
The inner filling for shock absorption
The bag itself is filled with shock-absorbing foam, which gives a nor hard nor soft hitting surface. But, that filling still provides a good rebound. But, still, I recommend using boxing gloves for hand protection.
Read more customer reviews here
How do you assemble an Everlast Powercore freestanding heavy bag?
Well, the manufacturer says the assembly is not complicated though there are some complaints about it. Fortunately, I found a video in which it is being put together. So, you will know if you have the skills and tools or not.
How to Use the bag in action
From the following video, you can see how it works in action. As you will see, it wobbles and moves a bit if it is hit hard, but it is OK for exercises with light punches.
Pros & Cons
This heavy bag is full of pros and cons, so let us look at the benefits and drawbacks without any delay.
Pros
Suitable for beginners
If you are a beginner and need to learn striking, punching, and kicking, you need it. It would make a perfect gift for teens and beginners.
Good for controlled striking
If you need training for controlled striking, it will make you a good bearer. The hitting surface is not so large, plus the recoil is good, perfect for developing hand-eye coordination.
Space-saving design
It doesn't require much floor space, and after usage, we can easily move around thanks to the rounded design.
Cons
This fitness training bag is not made for full force training
The Everlast Powercore is just not the right fit for full force training. A professional martial artist should not buy this product if it is stroked hard enough; it often breaks into two halves. Also, stability isn't the best for power strikes. But for practicing your hooks, uppercuts, straights, and jabs, the Powercore is a good choice.
Tough to Assemble
Although the product claims that it is available with ease of assembly feature, despite that majority of the customers have claimed that they find difficulty in assembling the product. The bolts just do not fit, and a particular type of expertise is needed to stand this model up. Check the assembly manual here.
Not good for boxers
Boxers usually have strong fists, striking hard with a heavy punch. Powercore is unsuitable for fighters as it cannot bear a sharp blow. It easily splits into half if a man weighing 200 pounds hits it usually.
The warranty
And finally, we have to mention that it comes with only 120 days warranty, which is short. It should have at least a year from my point of view.
Who is Everlast Powercore Freestanding Bag for?
According to many customers, I also find this Everlast freestanding heavy bag a total waste of money for professionals. It is only suitable for someone who wants to practice light punches and kicks or for fitness purposes. If you need a versatile workout tool that stands for hard hits, you should not buy this bag because it will break sooner or later.
On the other hand, if you are a beginner who wants to learn and practice the basic punches and kicks, it is not a wrong choice since the price is affordable and provides the required features. It is also perfect for women to have a fat-burning cardio workout routine and for people to release stress. And finally, it is a good standing punching bag for kids who do any type of martial arts.
We have to mention that Everlast Powercore has a small footprint and can be moved from one place to another easily. So, if you have a small home, it is maybe a good option for you. Also, you can take it outdoors to work out there.
Alternatives to Everlast Powercore Punching Bag
If you are a professional or big guy who wants to hit the bag with huge power, then I recommend Ringside Elite freestanding kickboxing bag or Wavemaster XXL to purchase instead. Those freestanding heavy bags are made for gyms with unique technology that stands massive blows without breaking or falling over. So, durability is not a question. However, its price is about twice more.
[content-egg module=Amazon template=list groups="Related"]
FAQ
How do you fill the base of the Everlast Powercore heavy bag?
For filling it with water, you need only a hose. If you want to fill the base with sand, you should use arid sand to run through a funnel. It takes time to fill the bottom fully with sand, but you will have a much more stable bag in the end.
Are Everlast heavy bags good?
Everlast is a trusted company that was founded in 1910. It has been the brand of many great fighters, and we can find their martial arts equipment worldwide. Their products are quality ones with excellent support and warranty.
How do I stop freestanding punching bags from moving?
Since the base is made of plastic, if we put the bag on a smooth floor, it'll move while we hit or kick it. The best solution is to put a rubber mat under it that stops the base movement.
What are the benefits of standing heavy bags?
This type of boxing bag is very good at improving endurance, agility, and technique. They are excellent for simulating full-body contact, just like in the ring, because they allow you to use different techniques and strikes. Plus, they are easy to store, and mobile, and no installation is required.