Speed bags are great for all types of fitness, from building strength and toning to improving your reflexes. In most kickboxing gyms, speed bags are used for training kicks, punches, and upper body movements. They are also helpful for cardio work.
However, to have a lightning-fast and correctly rebounding bag, a well-designed speed bag platform is inevitable. Without, a well-working platform bag may be too slow or moves undesirably.
You need a sturdy speed bag platform that's easy to adjust gives a good workout, and has a good design. Within this buying guide, we list the best speed bag platforms providing a great user experience. These items are suitable for both home and gym usage.
Comparison of speed bag platforms
Image
Features
24-inch diameter with 1.5 inch thick board
Speed bag (10″ x 7″) included
Adjustable height
15 inch height adjustment
24 inch wood platform from 1 ½ inch hardwood
Swivel with professional-grade ball bearings
12" of adjustability
There are three color choices
Pro-level swivel
Image
Features
24-inch diameter with 1.5 inch thick board
Speed bag (10″ x 7″) included
Adjustable height
Image
Features
15 inch height adjustment
24 inch wood platform from 1 ½ inch hardwood
Swivel with professional-grade ball bearings
Image
Features
12" of adjustability
There are three color choices
Pro-level swivel
Best speed bag platform reviews
Best value for the money
#1. MaxxMMA Heavy Duty Adjustable Speed Bag Platform Kit
If you're searching for DIY speed bag platforms with a range of features, check out this speed bag platform kit. MaxMMA's kit is just as good as most of the expensive boxing speed bag platforms.
This comes kit comes with a speedball plus a professional swivel and pump, unlike many other speed bag platforms. It's got height adjustability, a solid wooden base, and a pro-grade design, all for a very reasonable price. The only things we need to buy are the screws required for installing, but those cost only a few bucks. It's a great choice for someone who wants to improve his boxing skills without breaking the bank.
Main features
Several people can use the boxing platform because the platform's height can be adjusted. Detailed instructions and pictures also come with the kit, so it's easy to put together.
There is no need to purchase a speedball separately since a punching bag is included. Additionally, the kit comes with a hand pump and a swivel. Hardware for mounting to the wall is the only item that isn't included.
Max MMA Platform Kit has the same features as more expensive platforms in terms of value for money. The sturdy 24-inch diameter and 1.5-inch thick base make it suitable for holding all types of speed bags.
Due to its strength and materials, the adjustable platform reduces vibrations when boxing. We have an excellent rebound. Depending on your needs, you can upgrade the boxing platform with speed bags and swivels since the platform works well with other home gym equipment. The boxing gym can accommodate users of varying heights, so it is a good option.
Some platforms cost almost $1000 and are fantastic. You can also get a 5-star workout at home with this option. I enjoy the quality of this product, and after nearly six months it looks and functions like new.

Read the full review
Pros
Outstanding rebound rate
Affordable
Easily adjustable in height
Enhanceable
Designed and manufactured with professional-grade materials
Swivel and speedball included
Compatible with other tools from different manufacturers
Cons
We need to buy the mounting hardware, but that's not a big deal.
The swivel isn't the best. Pro users should replace it with a more professional piece.
Great value
#2. XMark Adjustable Speed Bag Platform
The Xmark Adjustable Speed Bag Platform is one of the most popular pieces of equipment among home gym owners for its professional design and durability. That's why it's also preferred by professional gyms as well.
Key features
During your workout sessions, this heavy-gauge steel design ensures a long lifespan, minimizes vibration, and maximizes rebound. If you have fewer vibrations, you will extend the life of your platform.
Hardwood is used to make this platform, which is 1.5 inches thick. The furniture finish makes the platform stylish. A standard household stud spacing of 16 inches is suitable for mounting the speedball.
This platform includes a professional grade ball-bearing swivel for boxers and MMA players who want to warm up and exercise.
A 15-inch height adjustment range is also available on this platform. Therefore, an attachment is not needed to get the optimal height for the user.
The XMark 4441 is an excellent speed bag platform for the home OR gym. It looks beautiful, but more importantly, it functions perfectly.

Read the full review
Pros
This is an excellent training tool for athletes at all levels.
We can adjust the height, and the swivel is versatile.
Vibrations are kept to a minimum, and rebounds are optimized.
Platform made of solid wood.
Sturdy and durable steel frame.
Cons
It doesn't come with a bag meaning extra cost.
Two people are required for installation since the platform is heavy.
Good choice for beginners
#3. Everlast Speed Bag Platform
The height of this product can be adjusted as well. With Everlast's speed platform, you can use many different types of bags. The Amazon reviews indicate that this is a good starter speed bag platform. For home gyms, this is an ideal purchase.
The main features
It's a sturdy and durable boxing platform because of the wide base of the drum.
Rebound speed is excellent, and vibrations are virtually nonexistent.
The weight limit for the platform is 65 pounds for optimum results.
It's 8 inches tall and adjustable.
There's a 24-inch board and a 1-inch hardwood drum on the platform. You can adjust the platform height using a spring pin lock.
Stability and support are provided by the swivel.
Using this boxing equipment is safer as it has a fully rubberized edge binding.
The speed bag platform comes with a 6-month warranty from Everlast.
Good value, very solid when mounted on wall studs, nice swivel, good packaging, my daughter and I love it!

Read the full review
Pros
It is a stable, durable, and multifunctional product.
For beginners, this is an excellent option.
Height can be adjusted.
It is reasonably priced.
Good job on the rebound.
There is a swivel included in the package.
Cons
It does not come with wall mounting hardware or a punching bag.
Installing can be challenging.
The whole thing needs to be mounted high due to the design of the slides.
Professional construction
#4. Balazs i-Box Speed Bag Platform
The Platform features state-of-the-art technology that makes the perfect boxing workout possible. This balanced platform provides excellent rebounds, durable, and even looks good. If you want the best, get this.
Key features
In addition to its super tight V-frame bracket constructed of 11 gauge steel and 1-1/4″ thick High-Density manufactured wood drum, it comes with a free resistance cuff made for a high-intensity workout. With the spring-loaded rebounding action, your skills will soar.
In addition to its easy assembly, the Balázs Platform features a diverse selection of colors, patterns, textures, and patterns designed to inspire creativity.
A clear coated, 1-1/4″ thick manufactured wood drum with a 24-inch diameter accommodates any speed bag size and adjusts 12″ vertically to fit the entire family. The ergonomic knobs lock snugly where they meet the rails for a secure fit.
Pro-Level 3 swivels are included in the platform. There are three colors to choose from for the powder-coated platform to complement the natural beauty of the wooden drum.
The model is shipped with mounting hardware for wood walls.
Perfect for your home gym! Adjustable up to 12 inches.
My first speed bag experience was when I was 12, and I have worked on a number of platforms since then. This is the one I chose based on my extensive research. The bag rebound quality, ease of setup, and vibration control are top-notch.

Read the complete review
Pros
1.25″ Drum
A set of mounting bolts is included
There are three color variations
With 12″ of height adjustment
Swivels are included
Designed and manufactured in the USA
Cons
Not easy to install.
The bag isn't included.
All in one boxing set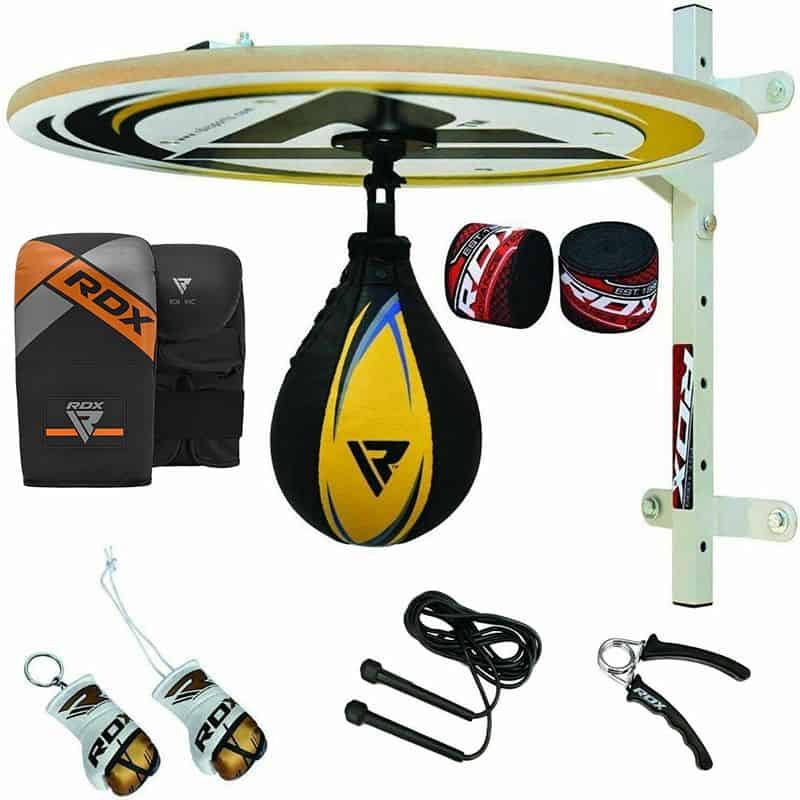 #5. RDX 12Pc Adjustable Wooden Speed Bag Platform Set
With an incredible package of features, the RDX Patent Pending speedball platform is a beautiful tool for fighters of all skill levels. This package contains speedballs hanging from MDF boards, steel wall brackets, leather gloves, bolts, Nicoat treated swivels, skip ropes, hand wraps, wall plugs, a car holder, etc. key-shaped glove. That means you get everything you need to get started.
Main features
HG-SteelTM bracket featuring a P-coated coating that allows it to be re-positioned for height adjustments.
Speedball platform made of 18mm MDF and 600mm by 600mm with ball bearings. Waterproof paint has been applied to the surface.
Speedball and gloves made of RDX Cowhide leather are included in the kit.
The platform can be adjusted in 7 positions, and by removing a pin, we can fold it.
Pros
Complete package at an affordable price.
Easy assembly.
Everything is included leather boxing gloves, jump rope, leather speedball, hand gripper, hand wraps, swivel.
Cons
The platform is a bit thinner than the other product has on the list.
How to buy the best speed bag stand?
Boxing training routines would not be complete without speed bags. Platforms that support speed bags are great for home setups because they require only a little space on the wall.
It is crucial to have a sturdy and well-built speed bag platform. Vibrations from punching the speedball should be absorbed. A good drum will also allow the punching ball to bounce back. Platforms should be adjustable in height. Plus, it is always advantageous to be able to use accessories from other manufactures.
The following buying guide explains what you must consider before buying a speed bag platform.
Speed bag swivel
Some platforms are equipped with a swivel for free. If you aren't satisfied with the moving of the bag, you can buy a swivel for a few bucks. The rotation of the speed bag should be easy, thanks to low-friction ball bearings. Some swivels are attached to the speedball with hooks, while others can rotate in any direction. Generally, mechanical swivels provide more control over ball movement than hook models.
Frame
Vibrations are dampened and supported by a sturdy frame. The frame should be made of metal, and brackets should be solid and well-designed. With an absorbent unit, your training will be smooth, and your rebound will be excellent. It is vital to use the right speed bag platform for your training session. A workout rhythm that is too fast or too slow can be challenging to maintain.
Adjustable Height
With a height-adjustable boxing speed bag platform, everyone can put the bag at the perfect height for them. In comparison to fixed-height models, height-adjustable models are typically more expensive. If only one person uses the punching bag, you can purchase a platform with a fixed height. On a tight budget, fixed bags can be an excellent choice.
Drum
The speed bag hangs from a circular platform drum. Wood or plastic and other materials are usually used to make them. Most people choose wood as their preferred material because it remains sturdy. Some platforms are constructed using plastic, but they are relatively inexpensive and unreliable due to their proneness to break. Wood is the best option for sure.
How to choose the right speed bag?
Natural leather is often used to make higher-quality speed bags because it is durable and long-lasting. The cost of synthetic leather is a bit less than that of genuine leather nowadays, however. I recommend going with a natural leather (they also look much better).
There are all kinds of speed bags. The larger and heavier bags typically improve endurance and strength. On the other hand, smaller bags are designed to move faster and improve reaction and speed. Speed bag platforms with large drums can handle a variety of bags. So, it's worth getting two types of bags if you want to improve both of your skills. More oversized bags are also more suitable for beginners.
Speed bags are traditionally shaped like water drops, and I suggest going with this style.
Buying guide: Check out the best speed bags.
How to mount a speed bag platform
You may need help setting up the frame since they can be pretty heavy. It's pretty hard if you try to hold the platform and screw it into place. The type of screws and bolts needed will differ depending on the kind of wall. In contrast, you will need different fasteners when attaching speed bag platforms to concrete walls versus wooden walls.
A speed bag should be held so that its bottom is level with your chin. Hence, you should measure everything and make sure that the platform is attached to the wall at the correct height. If your platform cannot be adjusted, this is especially crucial.
FAQ
How thick should a speed bag platform be?
The frame should be constructed from heavy gauge steel. The speed bag drum should be made of wood that is at least 1.5 inches thick, but the thicker, the better in most cases. The drum diameter should be at least 30″ so that we can use different speed bag sizes.
How do you build a speed bag platform?
How do you hit a speed bag?
Learn how to hit a speedball the easy way from this video. Beginners will find this guide an excellent reference for gaining knowledge about one of the most popular training tools. Become faster, more accurate, and more efficient.
Does a speed bag work make you faster?
It's essential to have the good hand-eye coordination to hit a fast-moving bag since it's a relatively small target. In general, speed bag training does have some positive effects. You will be able to throw stronger punches faster.
Does a speed bag build muscle?
Besides sharpening hand-eye coordination and speed, these types of punching bags develop skills as well. Focus, coordination, and speed are needed to strike the speed bag with rhythm. Furthermore, it is a fantastic cardio workout, and it helps improve coordination in daily life. It will help enhance shoulders and arms and improve reflexes. Muscles with fast, explosive movement can be developed by engaging them in exercises that require speed, agility, and quick reflexes. But you won't gain bulky muscles from this.
Are there any alternatives for platforms?
By purchasing a dual heavy bag stand, you can save money and space. Heavy punching bags, as well as speed bags, can be held by that item. They are a sort of free-standing speed bag platform. However, its platform isn't as professional as the ones on this list.
Related posts:
To sum up
Speed bags are an excellent tool for improving your speed, power, and endurance, and if you're serious about your training, then you should consider one. You can pick up a speed bag for under $100, and there are a variety of different options available.
That concludes our list of the 5 best speed bag platforms. You can see that there are a variety of models out there in various sizes and price ranges. Let's just settle this once and for all by voting on our favorites. 
Balazs i-Box Platform – It is clearly one of the top speed bag platforms on the market because of its outstanding build quality and durable design. Whether you are a professional or a boxing enthusiast, this is the perfect product for you.
MaxxMMA Platform – The second best option is this product due to its great price and value. Owners of home gyms will find it a good choice.
 Please let us know if you have any questions regarding our list of the most popular speed bag platforms!