Are you looking for durable boxing and MMA equipment made of high-quality material that gives you value for money? Look no further than the Ringside free-standing punching bag. This model is ideal for tall people due to its 6'4 height.
It is another excellent product from Ringside, undisputed in martial arts training equipment manufacture. Their boxing equipment is known for durability, which translates to value for money. The Ringside Elite free standing bag is made to build muscle for the user. It is also ideal for full-length kicks.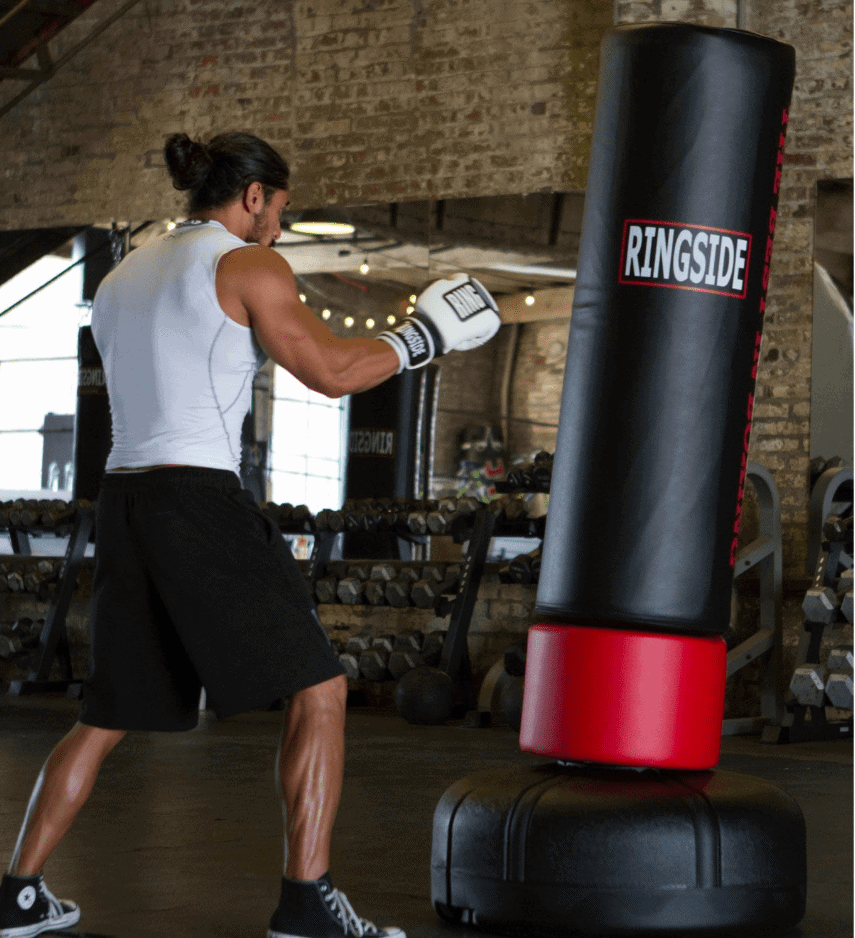 It is made of a synthetic leather shell that is very durable. The high quality of the leather can withstand heavy punching without wearing it out. Ringside guarantees that the bag is made to withstand even the harshest blows. It also has a removable foam collar. The collar increases or decreases the swinging.
With over 75 inches, the bag can accommodate kicks and punches from great boxers. The big Ringside Elite is comfortable to use regardless of one's height. It has a base diameter of 32 inches, while this free-standing heavy bag itself has a diameter of 17 inches.
It has a thick bottom that can hold up to 270 lbs of water or sand. The massive base ensures that it does not move with one punch or kick. Fighters will agree that a heavy bag that keeps on toppling over as one kicks and punches is very annoying. This Ringside model will not disappoint you when it comes to stability.
Best Features
Below are the striking features that will make you dash to the nearest gym equipment shop and grab one.
Quality Material
It is manufactured using high-quality synthetic leather. The material is durable and does not peel due to punching. For boxers who are looking for a bag that will withstand intense boxing during training, this is perfect for them. Heavy punching and kicking will not have the trainers return to the shop to replace it. This material is also easy on knuckles.
Solid Base
It has a massive base that holds the top. It can hold up to 270 lbs of water or sand. The feature ensures that it does not move as one kicks it. Heavy and fast punching will not push it from one point to another. Stability is crucial when hitting or kicking since all energy is focused on the bag, which helps one improve their technique without wasting punches. The weight distribution of the bag is perfect.
Check out why pro users like it.
Satisfaction Guarantee
Ringside Elite free-standing bag comes with a return policy if one is not satisfied with the product. The 120-day purchase return policy allows you to sample the product. If one is not pleased with the quality or the product disappoints them in any way, the purchaser is entitled to return it for an exchange or refund.
It is good to note that if one returns the product due to the color or size, then the product should not be unwrapped, and the original packaging should be present. However, if it's a manufacturing defect, the original packaging is unnecessary.
Versatility
Ringside Elite is manufactured with a professional trainer in mind. For this reason, training using this kit will ensure that the trainee builds muscle and develops their punching and kicking technique. It can also be put in a home gym for the enthusiastic home trainers who don't have time to stop by the gym. Suitable for every martial arts.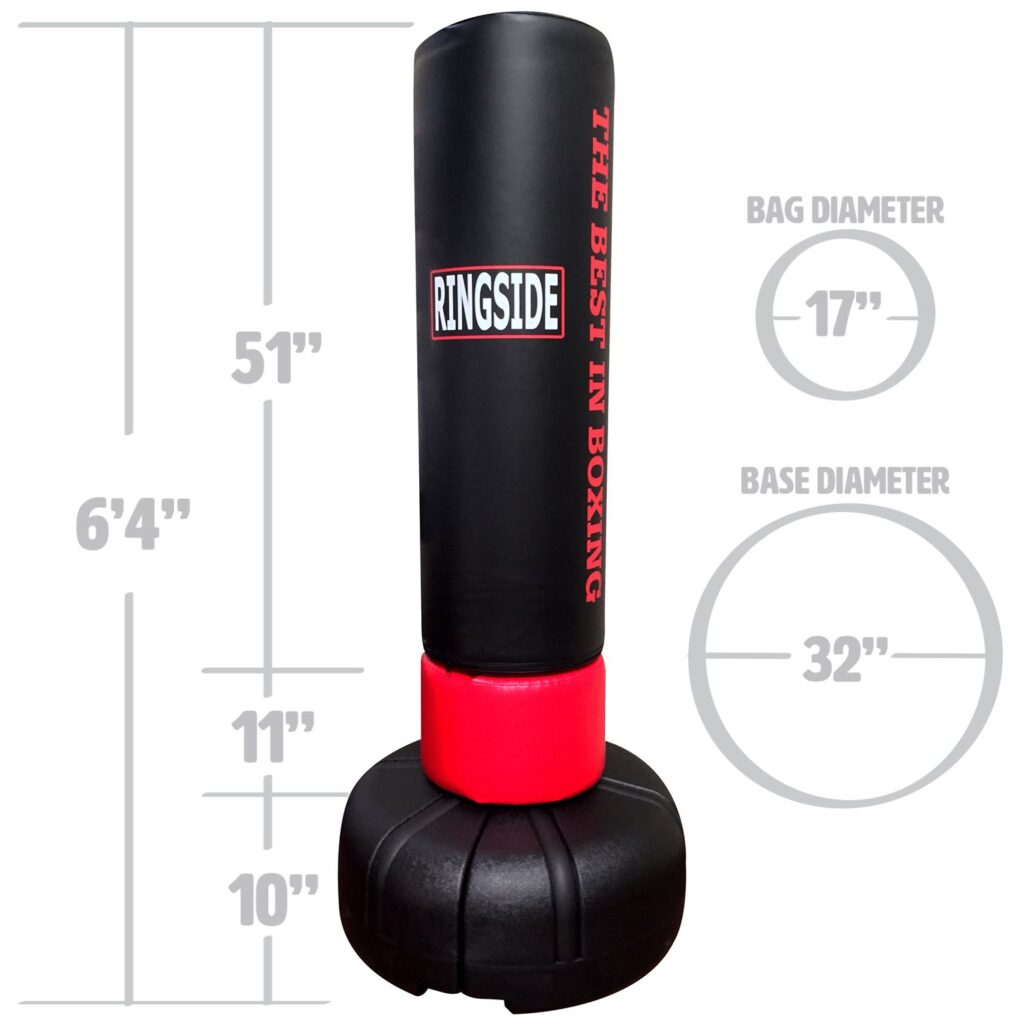 Advantages of Ringside Elite
One of the significant benefits of the Ringside Elite free-standing punching bag is its solid bottom that does not move or topple over when one strikes. The stability of this bag allows for consistency when hitting, which improves the training technique.
A similar free-standing punching bag is the Wavemaster XXL (and the bag from Everlast). Watch the video above to learn why Ringside is better than XXL.
Another merit of this bag is that it is made of high-quality material. Synthetic leather is guaranteed to last for long, which means one can have many training sessions without replacing the bag. The durability ensures value for your money, making it a worthy investment.
The satisfaction guarantee given is also a plus. When a trainer feels that they are not happy with their purchase, they have up to one day to return it and receive a refund or exchange it in case of defectiveness.
Another advantage is that it has been made for professional training. It's therefore bound to ensure that a trainee builds on their technique and grows in their profession.
The price of this Ringside bag is also quite affordable, and best of all, one can order it online and have it delivered to them. Payment methods are also convenient since they accept many credit cards and payment methods.
Disadvantages
The downside is the massive solid base that makes it immobile in the gym. It's tough to move it from one point to another, so one cannot use it for wrestling practice.
It does not accommodate people with a small build since it has been manufactured with heavily built professional trainers in mind.
Conclusion
Pros
Versatile, perfect for any martial arts and level
Very stable
Durable (suitable for gyms)
Excellent training experience
Cons
Big size
Heavy, so not easy to move around
Ringside Elite Free Standing bag has received many positive reviews on Amazon, with most of the customers finding the base very solid. They are happy that it does not move even when the basement is filled with water or sand.
The customers also like the quality of the material used to manufacture the bag since it will serve them long. Most customers are pleased with the reasonable price tag given the high quality of its manufacture and durability.
FAQ
Why buy a free-standing bag instead of a hanging bag?
A standing heavy bag is the best option for people who have no space at home to hang a standard heavy bag. After the workout, we can relocate to the corner of the room. The problem is that most standing punching bags easily fall over or break if a heavy hitter or an expert fighter uses it. Otherwise, for beginners or cardio training, they will do.
The Ringside Elite Free Standing Bag is an exception. It is very stable (great center of gravity), durable, and well-built, giving almost the same workout experience as a traditional heavy bag. Plus, Ringside Elite is suitable for any combat sport such as kickboxing or Muay Thai to hit with full force.
Which is better for filling sand or water?
For maximum stability, it's better to fill the base with sand since it's much heavier than water filling. But, it would help if you used dry sand to fill the basement through the hole.
What does the shock collar do?
The collar is between the bag and the base, for two reasons. First, it protects the shins when low kicks are made. The other reason the function of the shock collar is to improve the stability of the free-standing heavy bag.
Should you use boxing gloves?
Yes. Ringside Elite has optimal shock absorption, but it's still crucial to protect the joints and small bones of hands. So, use gloves and hand wraps for your power punches and strength training.
Similar punching bags
[content-egg module=Amazon template=list_no_price groups="related"]