If you are interested in martial arts, a free-standing heavy bag is an essential requirement for training. Compared to a hanging heavy bag, a free-standing bag is better for practicing the low and high kicks. Plus, they are portable, so you can place them somewhere if you do not use them. Also, they are more versatile for fitness purposes, such as cardio workouts. ✔
You will find the Wavemaster XXL review, one of the most popular punching bags of this type. 👍
General Overview of Wavemaster XXL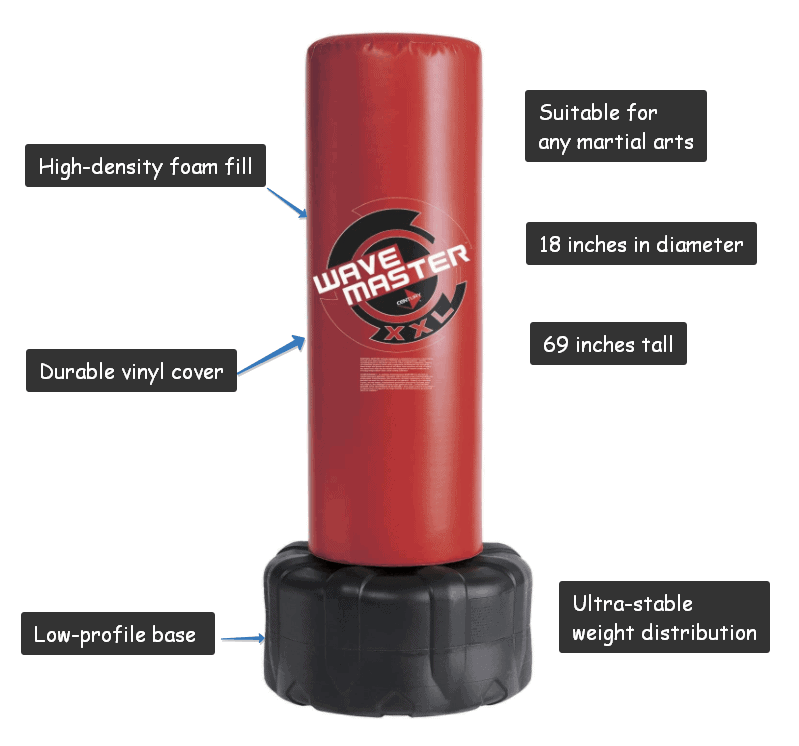 | | |
| --- | --- |
| Striking surface: | Diameter: 18″ Height: 52″ |
| Height with base: | 69″ |
| Weight: | 270 if filled with water |
| Filling: | High-density foam fill |
| Shell: | Durable vinyl cover |
| Base dimensions: | 28″×14.25″ |
| Warranty: | 1 year |
| Colors: | red, blue |
The Century Wavemaster training bag is an improvement from the ones made previously. It stands at about 69 inches tall and 18 inches in diameter. Its broad punching surface is ideal for striking and is made of high-quality material. The vinyl cover is durable and sturdy enough to hit either with a kick or a punch. 👍
This equipment has a low profile base, distributing its weight evenly, making it very stable to stand alone. It holds its own during your rigorous training sessions. It has an extra-large fill hole typically filled with water or sand to make it sturdy. This will result in a punching bag that weighs an estimated 270 pounds. You can assemble it with no tools necessary, making it a convenient workout accessory.
Product Features
Here are some of the key things to consider when acquiring this Wavemaster bag for your martial arts practice, cardio workout, or even to practice a few of your boxing routines.
High-Quality Material
It offers the largest kicking surface available in the market currently. Century Wavemaster XXL is made of highly durable vinyl material on the outside. It gives a sturdy exterior that allows for kicks and punches to be thrown at it repeatedly without damaging it. The inside holds a high-density foam, which is also quite a forgiving material.
Size and Dimensions
It stands at 69 inches tall and has a diameter of 18 inches. This model is filled with sand or water to give it an overall base weight of about 270 pounds for weight distribution with its low-profile basement.
The equipment requires no tools to assemble, making it an easy assembly. The striking surface is wide enough to practice on and made of a durable vinyl cover covering the high-density foam padding underneath it. The wide base is a hard plastic that is usually not covered.
Variety
XXL Wavemaster punching bag comes in three primary shades of color; red, blue, and black. Most people prefer red and blue since they stand out better. The filling is either done with the mentioned materials.
Water is commonly used due to its ready availability. It is also designed such that the base has fewer chances of spilling the water filling since this could easily cause an accident during a workout regimen. However, it is recommended to use sand since it gives it a much steadier fill compared to water, which could give way and move about when kicked or punched.
Warranty
The Century Wavemaster XXL comes with a one-year warranty. This makes it a worthwhile buy meaning any damages to the bag can easily be fixed or replaced within that given time. For a purchase worth an estimated 300 dollars, this is a deal worth taking advantage of.
How does it work?
Watch the following workout video. You will see that it is rather stable and does its job pretty well. If you need a more prepositional free-standing punching bag check out Ringside Elite, which is a bit more pricey.
Consideration
When using the Wavemaster XXL training bag, look at the storage conditions before filling it up. If filled with water in a too-cold environment, it could freeze and crack the base. The sand filling is recommended for areas whose weather may be a little unpredictable.
Also, water filling may result in an unstable base since it could move back and forth when struck. The use of sand for filling it instead ensures superior stability, and you would not be worried about how hard to kick or punch it when training.
Advantages
Wavemaster is one cost-effective free-standing punching bag. You get to spend about 300 dollars on buying it. You do not need tools to assemble it. Fill it out with readily available materials, and get a one-year warranty if any damages are incurred.
Its striking surface is wide enough for any training that involves kicking or punching. The large surface area gives a lot of options to train. It has a wide, stable base that allows it to stand alone in the provided space. It can be used at home since it does need huge storage space and does not hang heavy from the ceiling.
It might be an excellent choice for cardio-based exercises. It can also be used to train anyone aspiring to be an MMA fighter as it works as a stand-alone punching bag. XXL is also an excellent training bag to use when looking to improve your footwork with a stationary target.
Disadvantages
The hard plastic base is risky for use, mainly when children are involved. They could easily hurt themselves in a scenario where they landed on the base. The basement is also a little high for small children, and it is therefore recommended to keep them away to avoid any toe injuries.
Independent Reviews
I liked the XXL. It was a great length for me, as I could combine face level punches and knee level kicks in combinations. I didn't mind it moving around a bit, but it was near a corner. An opponent is going to move too. I thought it could've been a little firmer, but it was forgiving.

JR137 @ www.martialtalk.com
The Wavemaster XXL doesn't fall over easily, the regular ones do. If you fill the base with sand it should work fine. The only problem you might have is it tends to slide around, but you can get some exercise mats or something to minimize that.

dtravis92 @ forums.sherdog.com
Conclusion
It can effectively be used for martial arts training and fighter practice when considerations of the user's height and weight are carefully considered. The Wavemaster XXL free-standing heavy bag is ideal for home use and is conveniently affordable.
FAQ
How noisy is it?
This training bag is far quieter compared to hanging heavy bags with chains. Of course, the punches and kicks make noise, but that's acceptable.
Is it necessary to wear gloves?
For heavy bag training, it's always recommended to wear gloves to protect the hands and wrists' small bones and joints. Plus, the gloves avoid getting bruises. Alternatively, you can use hand wraps, but the best is to use both.
Can use XXL Wavemaster outdoor?
I won't let the bag outdoors since both the sun and water damage the shell. It's portable so you can store it outdoors in a safe place. However, it's heavy, so relocating isn't an easy task.
Does water spill from the base?
Even if the hole on the base for filling has a rubber cap, some users experience minimal spilling. That's why I recommend filling the bottom with sand instead.
You're maybe interested: Best standing punching bags
Similar Products
[content-egg module=Amazon template=list_no_price groups="related"]