Searching for a heavy punching bag is certainly not an easy task. Although many boxing equipment manufacturers are, finding a reliable and comfortable model is tough. Moreover, even if you succeed in searching for good quality equipment, it will be quite expensive, which is beyond your affordability range.
If you are also looking for a cheap heavy punching bag for residential use. But you are not willing to pay an unnecessary, expensive amount to purchase that; you should look for the fantastic Ringside Adult Heavy Bag Kit, 70 lbs.
It is made from heavy-duty vinyl, which keeps it sturdy while giving you a comfortable punching experience. Moreover, it contains the filling of synthetic and natural fibers to train your fists without getting your knuckles hurt.
The package of this particular deal is also quite incredible. You will not only get a punching bag by paying the price of around $80, but along with that, you will get hand wraps plus a pair of adult boxing gloves which you have to buy otherwise.
The kit also includes Swivel and mounting clip so that you do not have to make an effort to mount it on the ceiling of your room, and you can work out comfortably.
Moreover, its weight is also ideal for average height males, that is, a male with a height of 5 feet 10 inches and a weight of 130 pounds. This model works for almost any height of the trainer.
Ringside Boxing Bag Kit
This 70 lb punching bag kit is perfect for beginners. It's easy to set up, and you don't need any prior experience to use it. The gloves make it safe to hit the bag and give you a more realistic boxing experience. You can use this boxing kit for adults for fitness workouts or just to relieve stress. However, it isn't suitable for extreme workouts.
Features of Ringside 70 lb Heavy Bag Kit
This model is equipped with many features, which are listed below for your interest:
1. Ideal Weight for Average Height Males
Finding the perfectly weighted product is quite a fuss. Lighter models could not help the fists make the muscles strong where they can hurt the hand and knuckles while punching.
But with this Ringside product, you can have an ideal weight of 70 pounds which is perfect for average height and weighted male.
2. Smooth Material
It is also made from smooth yet durable vinyl material so that you can have an unforgettable experience with it. It also has a filling of natural and synthetic fibers making the punching ideal for every type of training.
3. Free Gloves & Hand Wraps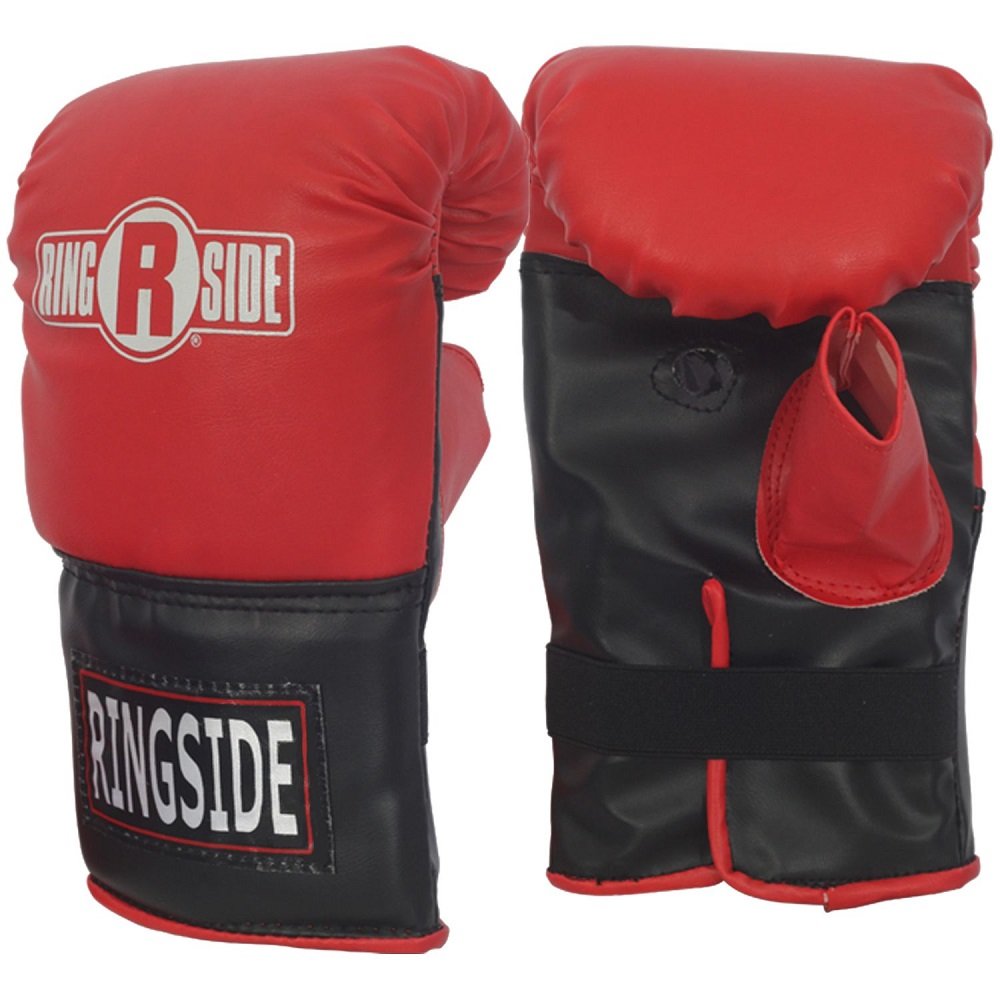 At such a reasonable price, you will not only get just a bag, but along with that, you will receive a free pair of boxing gloves plus the hand wraps so that you can have everything at hand for heavy-duty training and you do not have to spend more money on anything.
4. Swivel & Mounting Clip
Mounting it to the ceiling of your room is not that easy, but thanks to the Ringside, you are getting a swivel and a mounting clip with this model, so you do not have to face any difficulties.
The Pros
You can hardly find at home boxing kit at such a reasonable and affordable price as this punching bag kit from the Ringside. The price is nothing compared to the $500 and above dollars you see in most other products.
Moreover, the shipping is free of cost, making an overall reasonable and affordable package.
This Ringside boxing bag will be the perfect model for you if you begin your punching training because of its ideal height and weight.
Cons
There should be a guarantee card available with every piece of boxing equipment, and almost every other deal that I find on Amazon has a 5 to 10 years warranty. But this Ringside punching bag does not have any warranty.
Although this Ringside heavy bag is suitable for beginners, it is not for professional use. Gyms and fitness centers could not use such a bag for training purposes.