Do you think about building your home gym for strength training and boxing equipment? Do you need some home boxing gym ideas? Within this post, I'll show you some cool home and garage gyms that fulfill the needs of most of us.
Let's get motivated :).
1. Basic Garage Gym for boxing
An excellent way to turn a garage into a basic gym. Nothing fancy, just the most valuable piece of equipment.
For boxing, a traditional Everlast hanging bag and a double end bag. This stuff is enough to develop skills. I may add a speed bag just for fun.
For weight lifting, the power rack provides a safe environment. The gym ring is excellent for doing various bodyweight exercises like pull-ups or dips. Finally, the owner has a plyo box and some medicine balls that are great tools for conditional workouts.
The only thing I would change is to complete the flooring. I think it's annoying when we stumble to the edge of the rubber mat. And a big mirror to see myself during shadowboxing.
To sum up, this is an excellent example of how to set up a good home boxing gym without spending much money.
🤜 Read the best heavy punching bag reviews.
---
2. Home Boxing Gym Design for Basement
This guy loves boxing training for sure. He has everything to have a versatile workout.
For heavy bag training, he has two types of bags, a hanging and standing as well. The Freestanding Century BOB XL is an excellent choice to practice body and head punches. Plus, it's durable and stable equipment that doesn't fall over.
He also has a speedball and standing reflex bag to enhance hand-eye coordination, speed, precision, and timing. I may use a traditional double end bag instead.
He has an adjustable and simple flat bench and a few pairs of dumbbells for strength training – far enough for getting stronger. The treadmill is useful for cardio if we can't run outdoor.
The only thing I would add is a pull-up bar for bodyweight training and a wall mirror.
In a nutshell, this home gym is a well-organized room for boxing training.
Nice job!
---
3. Large home gym for boxing and strength
This gym dedicates more to weight lifting than boxing. There are plenty to lift weight: a power cage, a flat bench, and plenty of dumbbells.
For boxing, the gym has a double end bag and a big wracking bag. The wracking bag is great to practice uppercuts, but I think a traditional hanging heavy bag would also be useful to have. The large mirror with plenty of space in front of it is excellent to practice shadowboxing.
Nice airy space to workout!
---
4. It's enough to start like this!
Not everyone has hundreds of bucks for home gym equipment. And, if you want to practice boxing at home, you need only a heavy bag to get started. This beginner guy started home training, and right now, he punches pretty well.
If you check out the video at the top, you can see a peanut double end bag. That gear is great for improving targeting, accuracy, and timing. Plus, you can practice the uppercuts.
Do you have a few square feet at home? Get a bag and learn boxing.
---
5. The man cave for weight lifting and boxing
What a paradise! It's an excellent example of how to make the perfect garage gym.
Firstly, it's packed with all sorts of weight lifting equipment such as a bench press with an adjustable bench, lat pulldown machine, and dumbbell rack with many pieces. He also has a wall-mounted pull-up bar and dip bars, which are excellent for bodyweight training.
What about boxing? Everything we need! Speed, double end, heavy, wracking bag! The only thing I'd change is to hang the heavy bag to a beam instead of using a heavy bag stand. That way, I could move around it.
One more thing I love in this gym the mirror with a slip bag in front of it. Excellent idea! I'm going to make something similar.
Beautiful! Congratulation to the owner.
---
6. The backyard boxing gym
I love working out outdoor. If you have a covered outdoor place, you may consider building your outdoor gym for boxing.
Be careful, though. Most of the punching bags aren't weather resistant. The sun and moisture slowly destroy the shell and filling. You shouldn't leave genuine leather bags outdoor without protection at all.
This guy has a nice covered area where he hung a wide range of bags. For his Everlast heavy bag, he uses a stand instead, which is a good solution if we don't have an appropriate anchor point. Plus, we can quickly unhang the training bag and get it to a protected place.
If I had such a backyard, I would do the same for sure. Outdoor training is way better than between the walls.
---
7. Boxing ring at home
Do you have a sparring partner? Have a big area at home? What about setting up your boxing ring? I think we can buy a used ring on eBay. Also, it isn't a big job to make it yourself. Of course, the dimensions won't be standard, but still, we can have a real boxing match feeling. Tip: Get a pair of focus mitts to practice together.
I would change a few things, though. I'd cover the entire gym with a cohesive gym flooring, particularly under the ring. It's easy to stumble to the edge of the separated rugs. Plus, I'd clear the area around the ring for safety.
In a nutshell, this gym with a ring is an excellent idea!
---
8. The girlish style gym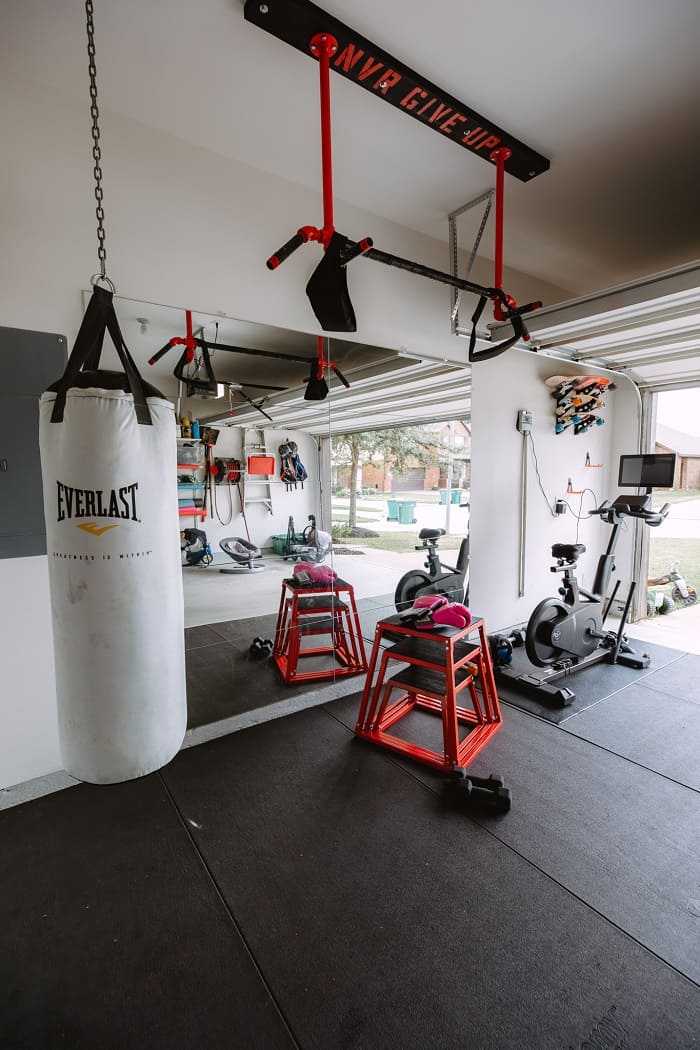 Pugilism isn't just men's sport. Ladies can be very tough while hitting the bag. We can find a nice white Everlast boxing bag and a pair of pink boxing gloves in this gym. The plyometric boxes are valuable equipment for HIIT workouts. Some dumbbells, kettlebells, and a pull-up bar for strength. And an upright bike for some cardio.
Friendly and beneficial for fitness!
Ok, you've seen some great ideas. Let's get into the details.
---
What do I need for a home boxing gym?
That depends on if you are already familiar with fisticuffs or not.
At home boxing workout without a bag
If you are a total beginner, you don't need anything. Yes, you heard it right. You should start with shadow boxing to learn the basics such as the footwork, stance, and punches. The best is if you practice in front of a large mirror. There is no need to hit anything until you are familiar with the fundamentals.
When I started boxing, my coach didn't allow me to hit the punch bag for months. I was angry, but then I understand the whys. It's similar to what Jackie Chan did with Jaden Smith in The Karate Kid. With shadow boxing, we coordinate mind and body first.
 🤜 Tip: List of the best places online to learn boxing training.
---
For boxing workout with a bag
If you know the basics, then a hanging heavy bag, which is about half of your weight, and a pair of heavy bag gloves, hand wraps are the essential home boxing gym equipment. With the help of them, you can put into use your skills and improve your punching power.
Tip: If you can't hang the bag to the ceiling, you can get a free standing punching bag instead.
I also recommend getting a double end bag, which is beneficial equipment to improve the timing, speed, accuracy, reflexes, and hand-eye coordination – skills that are crucial to hit the bag properly. And a jump rope for conditional training.
And that's it. I think these are the home boxing gym essentials for a home boxer.
Of course, you can get other types of punching bags, but the two types above are enough to get started. For fun, you may consider a speed bag platform as well.
🤜 If you want to know more, check out our boxing home gym equipment buying guide.
---
How much home boxing equipment cost?
It's hard to tell since there are so many types of bags and prices. A good heavy bag costs around $150, a double end bag about $70, and a decent pair of boxing gloves cost around $80. It would help if you had a mirror, maybe floor mats, and hardware for hanging. So, a basic boxing home gym costs around $400.
🤜 Read more about punching bag prices here.
---
To sum up
I hope you now know more about how to set up your home boxing gym. You don't need many things so that it won't be a significant investment. Pugilism is a full body workout that can help anyone get better in shape, enhance endurance and be healthy. For more tips, look around on punchingbagsguide.com.