Is the nearest boxing gym closed because of the pandemic, or have no time to go? I'll show you some sources from which you can get good boxing lessons online. Of course, if you want to be at an advanced level you should join a boxing club, but these "online coaches" are great to start.
Let's start.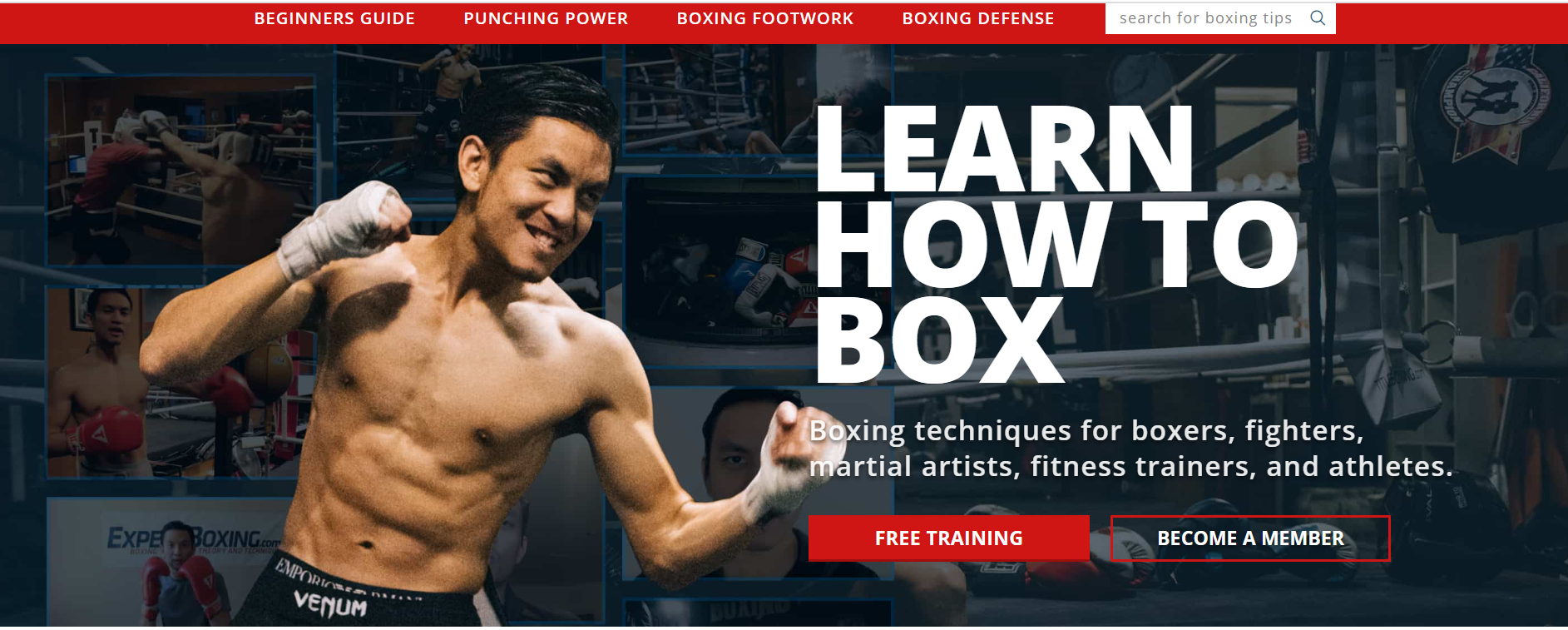 Johnny Nguyen is a professional boxer, but what's more critical is an excellent coach as well. He shares his knowledge and experience simply that everyone can understand. His blog is packed with tons of useful information about improving defensive and offensive boxing skills from beginner to advanced level.
Expert Boxing also has boxing courses with different training methods that we can buy for a few bucks:
"How to box in 10 days" – To learn the boxing basics.
"Advanced Workshops" – How to improve punching power, balance, and footwork. Great source to learn advanced boxing skills.
"30 Days Fighter's Diet" – It's about how to lose weight without adverse side effects.
"Secrets to Punching Power" – An intensive training program to be a big puncher.
"Secrets to Defense" – An advanced program about defending and to learn advanced boxing moves.
"Dancer's Footwork for Fighters" – Effective footwork is a crucial part of the fighting. From this course, you can be the master of it.
To sum up: ExpertBoxing calls itself the Number 1. pugilism website, I couldn't agree more.
---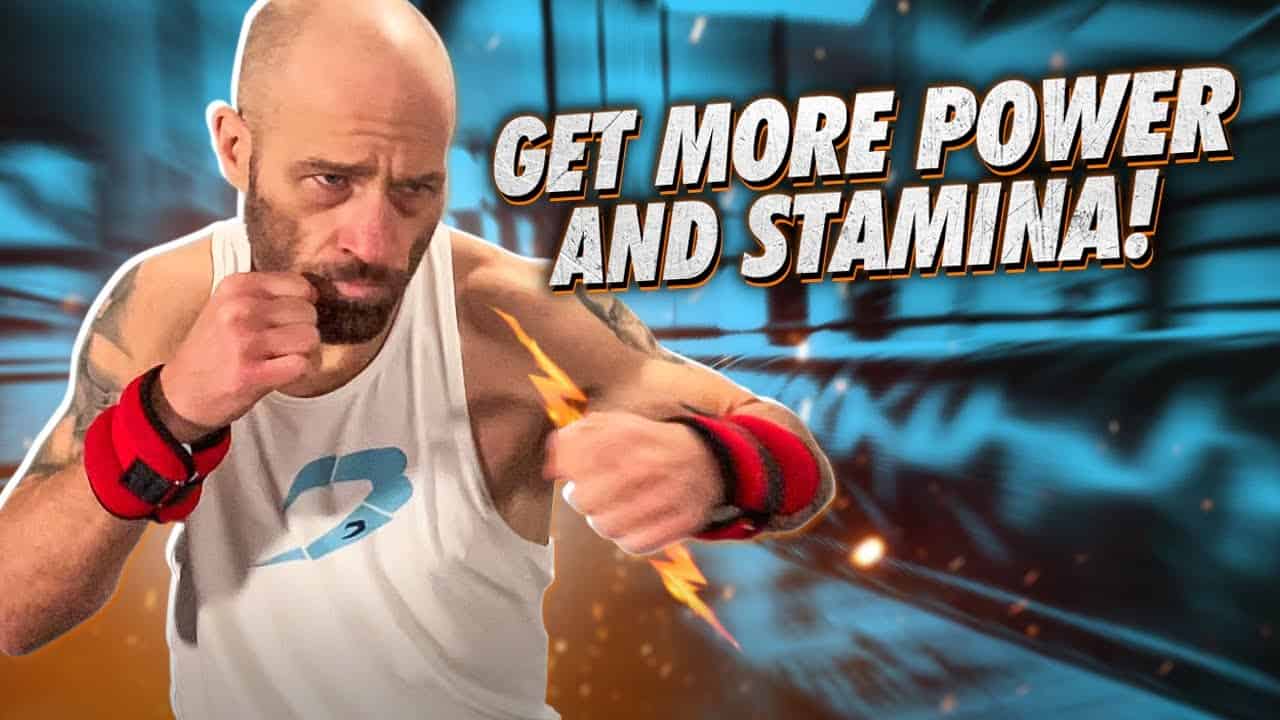 Frankly, I started boxing at home because of Jason Van Veldhuysen's youtube channel. This guy is so enthusiastic, and his positivity towards the sport comes through all his online videos. The way he teaches is phenomenal.
He shows everything steps by step, talking about the typical mistakes, etc. No matter if you want to develop your condition or wish to be the next Tyson, you can find useful tutorials on his channel.
He also has a bunch of premium online boxing courses, such as:
"Supreme Bundle" – The ultimate coaching package.
"Beginner's Bundle" boxing tutorials – To learn the fundamentals.
"The Skills' Package" – Focus on each major aspect.
"10k Punch Audio Training Program" – 20 tactical combinations and 20 rounds of training.
And many more basic and advanced boxing workouts.
I also have to mention his app called "Precision Supreme," which calls out punches. There are a lot of settings to customize the boxing workout to our level or aim.
To sum up: Jason Van Veldhuysen is the best online boxing training for beginners. After watching some of his videos, you'll fall in love with the sport. He also has the best boxing app ever that helps improve various boxing skills.
---
Cornelius Carr used to be a professional boxer, but nowadays, he is among the best boxing coaches in the United Kingdom. His blog and youtube channel are packed with useful information about improving fighting skills, stamina, and preparing yourself for your first match. It's a more technical source that is made for fighters.
He also has a premium online boxing program on Udemy called Masterclass.
---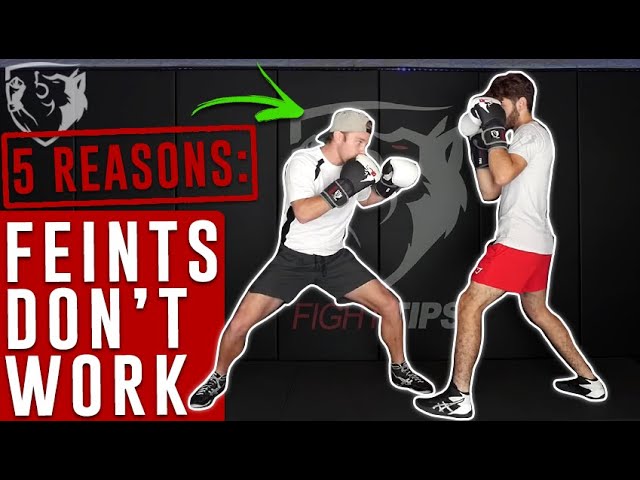 We can find all sorts of martial art tutorials on this youtube channel, such as MMA, Muay Thai, BJJ, wrestling, etc., but most of them are about the basics of boxing. What I like is that they share a lot of 'little' tips and tricks. We can also find many videos about eliminating various mistakes and preparing our minds for fighting.
I recommend the FightTips channel for those who can't decide yet which partial art they would like to do.
---
FightCamp is an excellent source for newcomers to learn the fundamentals of boxing. It's more for people who choose boxing as a workout to improve endurance or lose weight. The video tutorials are excellent for learning the moves, punches, and boxing combinations. We can also find a lot of workout programs (+600) that we can see presented by an expert.
If you want to start combat sport for fitness training, FightCamp is the right choice. Plus, they offer a lot of free online boxing training program.
---
How do I start boxing training at home?
Learn the basics such as the boxing stance, footwork drills, basic punches, and practice a lot in front of a mirror. All the mentioned sources above have boxing training for beginners. Once you get familiar with the movements, you can start using the equipment.
I know it's tempting to hit the bag, but without a good foundation, it's useless. Usually, it leads to bad habits (staying in the same space, focusing on punching power instead of proper technique, etc.) that are hard to get rid of in the future.
---
Can I learn boxing online?
We can learn the basics from well-made video tutorials, such as punching skills, easy combos, stance, footwork, etc. from boxers. Pugilism is relatively easy to pick up but hard to master.
You can learn many different techniques and aspects of boxing by using online resources. Getting started and learning the basics of boxing online are easier than expanding into more technical aspects of boxing. Videos of boxing can give you a good idea of how to move in a boxing stance, how to parry, how to throw punches, as well as how much fitness you should aim for.
If you want to be a "real" boxer, a coach and someone to fight with (a sparring partner) are essential. Without boxing classes, you can't master the skills and techniques required for a match.
I believe boxing lessons online are suitable for those who want to do the sport as a hobby or a conditional workout. The professional coaching courses are for fighters already familiar with the sport but want to learn something new.
---
What to buy to start boxing?
Well, to get started, you don't need to buy boxing gear because shadow boxing is the first step. Once you get familiar with the basic punches, proper footwork, stance, etc., you can get a heavy bag, hand protection, and footwear. Keep in mind that it requires research and a dedicated space to find the optimal gear for you.
Read about the boxing equipment for a home here.
---
What is the best box application?
Precision Supreme is my favorite. I've been using it for many years, and I love it. It calls out punches, stuffed with drills. We can choose from many settings. We can access content to learn the proper form if you have no boxing background. Also, we can find advanced boxing tutorial videos.
Read my detailed overview here.
---
To sum up
Having an online boxing coach helps get started, but you need real contact to become a master. I don't say it's useless, but not enough for the ring. I have a busy life, so I can't go to the gym, so I'm learning boxing online, but I don't want to be the next Tyson. For me, pugilism means endurance, stress relief, and usable power. That's why I do it.