Do you want to improve your speed, technique, strength and focus for Muay Thai? Training on the heavy bag can be your best friend to get all of those. However, many beginner fighters underestimate the importance of heavy punching bag training, or they commit mistakes that I will list below.
Kicking and punching the bag is the best way to boost your skills and condition. Hence, it must be in your workout routine. Here you will find some workouts to start with.
But, before let's talk about the mistakes.
If you want to develop you should work hard. Many fighters attack the bag like mad at the beginning. Then, after a round, they just kick and punch it like a girl. Slowly and without power. To get the most from this workout, do high-intensity training. That will enhance your endurance and cardio for sure.
Another problem is that fighters almost do the same combos over and over again and on each workouts. OK, you are going to be perfect at them, but your opponent will quickly find out your weakness and use it against you.
The next time you start beating the bag check out the combos you use. How many types do you do? If just a few, it is time to add more combinations. Add more variety of knees, elbows, punches and kicks to the combinations. Use Muay Thai punching bag to get rid of those weaknesses.
The heavy bag is one of the most important equipment that is usually neglected by trainees. It is your best friend to enhance the power of your punches and kicks. It helps you to get better balance, strength, speed and endurance. Almost everything you will need in the ring.
Just think about it. If you hit it thousands of times correctly, your brain will be so familiar with the moves that they will come naturally.
If you want to know more about the importance of Muay Thai heavy bag workouts, read this article.
So, you know the reasons why you should use this equipment, so here are some workouts to see the what you have learned in action and to get more advice.

1
Muay Thai Drills for Beginners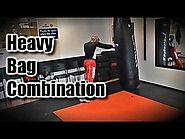 Are you a beginner? From this video, you can learn a basic combo to start with. Plus, how to hit the bag correctly.
2
5 Killer Bag Work Drills Tutorial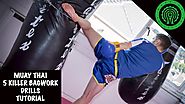 This is another excellent source to learn combos that you can include in your routine. Stuart presents the moves in an easy way and slowly. I like the way he teaches.
3
Beginner Muay Thai Heavy Bag Combinations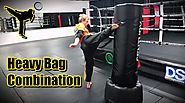 This video is also for beginners, but you will learn harder combos with hooks and knees. Also, some muay thai basics for beginners on how to protect yourself.
4
Thai Boxing Heavy Bag Training for Power Kicking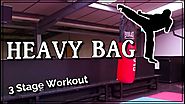 Workout for power kicking, a drill on the heavy punching bag. An excellent power kicking drill to develop your technique and kicking strength.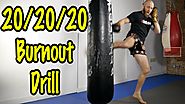 We have been talking out the importance of intensity. This work out will show you how to have such training. It's called 20/20/20.
6
MMA, Boxing & Muay Thai Heavy Bag Combos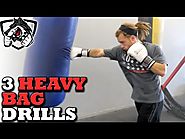 From this video, you will learn not only great drills but also a lot of useful tips on how to use the bag to get the best training.
7
Muay Thai Punching Bag Drills to Increase Knockout Power Tutorial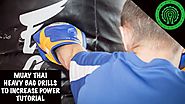 Learn combos and techniques that will help you to knock out your opponent faster.
8
Workout For Conditioning & Bag Skills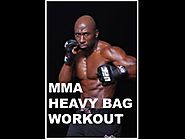 This is an excellent routine to develop your cardio conditioning but also to use the bag for developing your skills. One round includes 10 muay thai conditioning drills; each is 30 seconds long with 5 seconds rest between them. Make 5-8 rounds with 1-minute rest between the rounds.
9
Kickboxing heavy bag drills for defense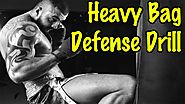 Here you can get learn a drill and get other useful tips for defense.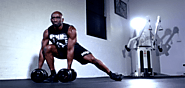 You need to be performing solid circuit workouts that will target power, strength, muscular endurance, cardio, abs and core, explosiveness, and mental toughness.
Have I missed a workout or a tutorial that should be here? Share with us below.