If you're serious about training to fight, then you're going to need a serious punching bag. But how do you choose one? There are so many different types, all claiming to be for various purposes. Amongst them all, you need to find the best one for you, equipment that will support your training, and at the same time look fantastic in your home gym.
Within this guide, I'd like to show you what you should look at when buying a punching bag. So, in the end, you'll have a clear vision of what's the best pick for you.
Let's start!
1. What are your training goals?
There are at least 15 types of punching bags. Yes, you heard it right. But, most of them are made for specific purposes for professional athletes. For home use, we usually pick 3-5 types. I'll only talk about them.
We can put the bags in two groups:
Heavy bags that are for improving punching power (or use it as a tool for conditional and strength training)

Hanging heavy bag
Free standing bag
Uppercut heavy bag

Bags that improves the fighting abilities (eye-hand coordination, speed, timing, etc.)

Speed bags
Double-end bags
So, first, you need to determine what do you want to use the punching bag for? What are your specific uses?
Let's see the two groups.
---
Different types of punching bags
Hanging heavy bags
[content-egg module=Amazon products="us-B006CV92DW" template=list_no_price]
Hanging heavy bags are excellent equipment for both martial art development and resistance training purposes. Since they are heavy and bounce, they imitate the movement of a real opponent well. It's great to improve punching power, endurance, and other fighting skills.
The only downside is that we need a dedicated space and a safe installation location. Alternatively, we can use a heavy bag stand, but we won't move around it.
Who are the heavy bags suitable for? For everyone! This type gives the best training experience.
✅ Find the best heavy bag reviews here.
If you want to buy a hanging bag, ask these questions before shopping:
Where will you mount the traditional boxing bag?
Will you have a strong anchor point?
Will you have enough space to move around?
Can you install it yourself? Do you have the required accessories for installation?
Do you want an unfilled or filled punching bag? Unfilled ones are much cheaper, but it might be complicated to fill it the right way.
Pros
They make training more realistic.
Ideal for learning and improving kicks, head, and body punches, punching combinations.
Footwork, as well as other offensive and defensive moves, can be practiced.
They are strong and durable.
We can change the filling to suit our needs.
Can be used by all level athletes.
Cons
An appropriate place must be provided.
It can be challenging to install.
---
Free standing punching bags
[content-egg module=Amazon products="us-B08MDX4G8W" template=list_no_price]
The free standing heavy bag is the solution for those who can't hang a bag. It doesn't require any installation. We need to fill the base with water or sand.
The downside is that standing punching bags don't bounce. They are more static, so we can't practice various techniques. Also, some cheaper stand-up bags are willing to tip over and can't be used for powerful punches and kicks. But, the professional pieces are great for any combat sports.
Free standing bags are useful for people who don't have much space at home and need mobile boxing equipment. There are entry-level standing bags for mainly fitness training (light punches and kicks), but there are high-end bags for advanced athletes.
✅ See the best free standing heavy bag reviews here.
Questions to ask yourself before picking one:
Do you want to use it for cardio type boxing workouts or true martial art (boxing, MMA, kickboxing, Muay Thai) training?
Is it stable and durable enough to sustain the power of my kicks and punches?
Pros
Setting it up couldn't be easier
There are various sizes
Soft hitting surface
Portable and easy to store
Suitable for a cardio workout that is great for weight loss
Those giant bags are great for kicks
Suitable for beginners
Even in the living room, we can use them.
Cons
A small bag may fall over, depending on how much force is applied to it.
Since they do not swing, it is difficult to practice punching techniques well.
You may have problems with cheap products.
🤔 Still can't choose? Read the complete hanging vs. free standing bag comparison here.
---
Bags for developing fighting skills
The speed bags, double-end bags, and slip bags are made for improving such boxing skills that are crucial for a fight, such as hand-eye coordination, punching speed, rhythm, timing, accuracy, etc. Hence, they are recommended for those who are serious about combat sports.
That doesn't mean an average Joe has no benefits from using these punching bags. They are great tools to harmonize the mind and body, release stress, or have a light yet enjoyable cardio training.
What is a speed bag?
A speed bag is a small, air-filled punching bag attached to a swivel mechanism so that it can move freely and rebound strongly when struck. When we hit the bag, it rebounds from the platform. It's excellent for improving rhythm, timing and strengthen the shoulder muscles. Professional boxers and amateur boxers alike use speed bags.
What is a double end bag?
It is often known as a "floor-to-ceiling bag", it has to be attached to the floor and the ceiling by an elastic cord. These punching bags are available in various sizes and shapes, and we can also adjust the rebound elasticity to match the boxers' needs and demands. Because of the unexpected movement, it's a more challenging target. Hence, double end bag training improves punching skills and boxing combinations very effectively.
🤜 Learn more about double end bags
If you can afford it, I recommend getting one of these, since they make your training more versatile.
🤔 Want to know more? We have a detailed guide on the different types of punching bags here.
---
2. What punching bag weight should I get?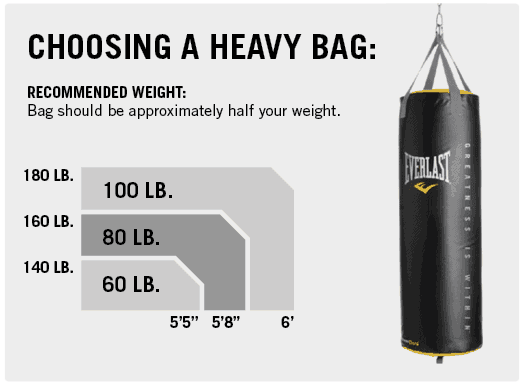 The general rule is to choose a hanging bag that is half of the user. So, if you are 180 pounds, an 80-100 pound bag will do. This way, it will give enough resistance but still swing enough.
Total beginners can choose a slightly lighter punching bag than half of the body weight because they need to learn the various punches' correct execution. Also, a more lightweight bag forces the users to move more, improving the footwork.
Advanced athletes or people who want to use the bag for kicking can buy one that is 70-80% of their weight. This way, it will be more static but can be used to improve punching and kicking power.
A good starting weight for young boxers, beginners, fitness training, kids is 30-50 pounds
Beginners, teens, and women can use weight between 60 and 80 pounds without discomfort.
A weight range of 80-100 pounds is acceptable for intermediate boxers, guys, or advanced level women.
Heavy bags weighing 150-200 pounds are primarily intended for heavyweight boxers, and they are used for boosting punching power.
---
3. Consider your fitness level
Another important factor is your current physique. If you are familiar with boxing training and have good punching power, you should get a high-quality bag. It costs more, but you don't have to be afraid of cracks and tears.
If you are a beginner or someone who needs equipment for conditional workouts, you don't need a high-end bag. A cheaper entry-level product will do.
---
4. Which material is best for a punching bag?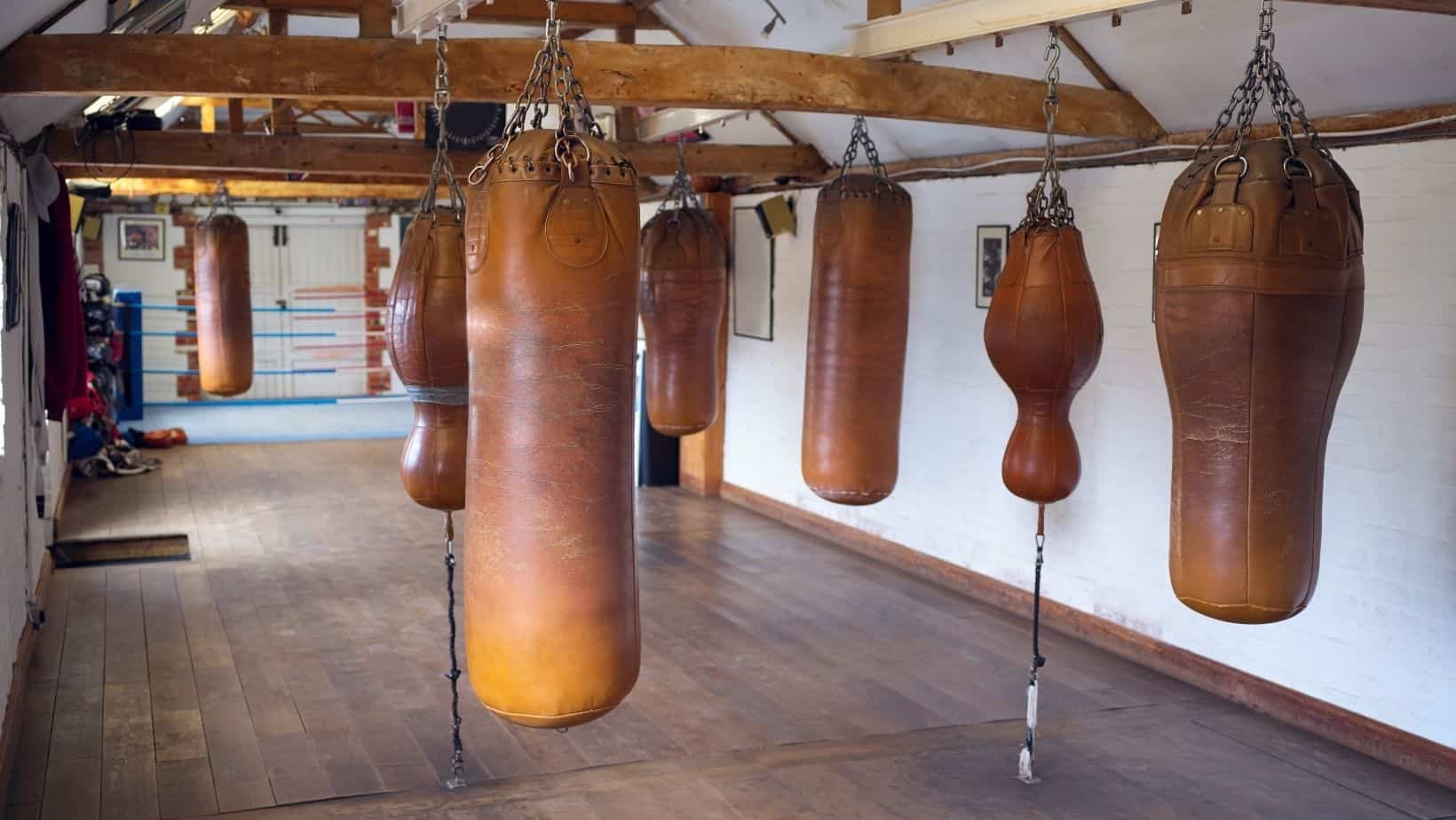 We also need to check out the exterior and the filling.
The shell
The exterior, or shell, is usually made from leather, synthetic leather, or canvas.
The leather shell looks nice and gives an excellent punching surface, but it needs maintenance.
Artificial leather, vinyl, or PU exterior are all durable materials, easy to clean, and cheaper than genuine leather. I think these materials are the best value options.
Canvas bags have the weakest shell. It's only good for lightweight bags suitable for kids.
The filling
There is a wide range of things used for filling a heavy punching bag, such as cloth, sand, foam, peanuts, rubber mulch, etc. By combining the different materials, we can modify the weight and softness.
I recommend getting a bag with medium hardness and with good shock absorption. That way, it won't hurt your knuckles and wrists. But, you should always wear boxing gloves and hand wraps.
If you bought a filled heavy bag, you could change the filling since it all come with a zipped hole at the top.
🤜You can learn more about different ways to fill a heavy bag here.
---
5. What height punching bag do I need?
Hanging boxing bags are about 3-5 feet. I suggest getting a longer bag since we can have more punching areas. That's particularly true for tall people.
If you want to practice kicks, you should consider getting a Muay Thai bag that is at least 6 feet long. Hence, you can practice high and low kicks and knee strikes.
If you prefer free standing bags, there are huge and stable items made for any martial arts. There are cheaper but adjustable standing bags with a limited punching surface and are better for fitness training.
---
6. What are the best brands?
Well, that's an interesting question. Big brands such as Title, Everlast, Ringside, Outslayer, or RDX are trusted manufacturers. But, I think it's better to check out the customer reviews on the desired punching bag. If there are a lot and most of them are positive, you can't go wrong. Sometimes, not yet known names sell great products at a much more affordable price.
---
7. How much should I pay for a bag?
A hanging boxing bag for average usage costs about $150, while a standing one about $170. But, there are a lot of factors that influence the price. That's why I created a detailed post about the punching bag prices from which you can get a much better view.
---
To conclude
Ok, let's recap what you should check out when choosing a punching bag for your home boxing gym:
Decide if you want a hanging or free standing bag.
Choose boxing equipment that is fit for your height, weight, and fitness level.
Decide if you need it for fitness workouts or real martial art training goals.
For serious training, it's better to invest in a professional and heavy-duty item. For light fitness workouts, cheaper products will do.
When you get into boxing, you may be tempted to purchase the first punching bag that catches your eye. However, it's important to choose the bag that's right for you, especially if you want to maximize the workout you get from it. If you still have questions, drop a comment below.