A wrecking ball punching bag is a bigger, heavier type of heavy bag. Because of its weight and design, it tends to swing less. It's even better for landing uppercuts, hooks, and body shots because of the rounded surface. And because it's heavy, you can strike with a lot of power. Despite their slower swing, wrecking ball bags are great for practicing close-range fighting and footwork, thanks to their short height. ⚡️
In short, wrecking balls are an excellent boxing training tool for improving punching power and developing various offensive and defensive skills. 🥊
This wrecking ball boxing bag buying guide contains reviews and comparisons of the best products and advice on what to look for when shopping. 👍
Editor's choices
Reviews
#1. Prolast Wrecking Ball Heavy Bag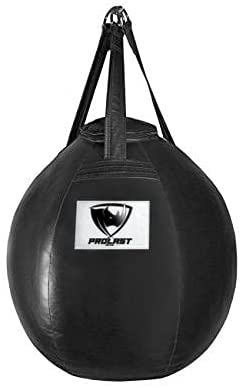 Water-repellent canvas along with synthetic leather cover is used in the construction of this wrecking punching bag. With triple-stitched D-ring tabs, the bag features nylon straps made of heavy-duty nylon. The result is less weight and quieter operation. Thanks to the premium materials, there is no question that the Prolast wrecking ball will last a long time.

The stuffing is made up of high-density poly-fiber material that absorbs every hit effectively. Angular shots, uppercuts, and body punches are all fun with this bag. Heavy punchers will find that the bag will give them enough resistance, but it still feels solid. While training for long periods, the balanced weighting keeps the bag dependable.
In terms of dimensions, the bag measures about 30 by 25 inches. As for the strap, it measures 17 inches long. There is about 65 pounds of shredded filling, but we can increase or decrease the weight if necessary.
Customer reviews are very positive!
Pros
It is made of premium, durable materials for sturdiness.
Hand-made in the USA with great support and lifetime warranty.
Well-organized filling for effective shock absorption and balance.
Good choice for professional use.
5 colors to choose from.
Cons
A bit more expensive than other bags but we are talking about a professional product.
---
#2. Ringside 65-pound Body Snatcher Powerhide Punching Bag
Professionals and amateur boxers alike can develop vicious body punches with this bag's teardrop shape, which encourages proper form and delivery. It is the ideal wrecking ball heavy bag for boxing, MMA, Muay Thai, and other contact sport athletes to practice kicks, angled punches, and footwork. However, it is also an excellent choice for fitness to build strength, tone, and condition your body through a muscle-building cardio workout.

Powerhide construction is built to withstand your most powerful attacks. The filler inside is soft so that it is easy on your hands. At the same time, it still offers adequate resistance.
The weight of the Ringside wrecking ball is 65-80 pounds depending on the filling. The size is 22″ x 24″, so it gives plenty of hitting area. The heavy bag chain and swivel are included with the set.
Most users rate it as a 5-star bag!
Pros
Softly filled so easy on hands, but provides good resistance.
Good choice for beginners as well as advanced fighters.
Teardrop design helps to throw uppercuts and hooks more effectively.
Durable materials.
Required accessories are included with the product.
Trusted brand.
Cons
There may be people who find the bag a bit soft, but this problem can be fixed by adding more filler.
---
#3. Title Boxing Body Snatcher Bag
This unique wrecking ball design gives athletes the opportunity to perfect every punch. Compared to the other punch bags on the list, this bag has a more cubic form and may be a better option for hooks and straight punches. This punching bag design keeps athletes on their toes and alleviates excessive swinging during boxing training.

Shredded poly-fiber material is stuffed to produce a high-density bag that can absorb every angled strike in this bag. It is not too soft nor firm. It has an evenly distributed center weighting to help keep the bag aligned, providing an optimal target.
The hanging straps of the seat belt are made of durable nylon, with triple-stitched D-ring tabs to eliminate excess noise from chains. However, you must purchase an additional swivel.
The dimensions of the Title wrecking bag are 30″ x 25″, so it's large, presenting a nice hitting area. It weighs about 65 lbs.
It's a 5-star product at Amazon
Pros
The cubic design makes it easier to throw straight and hook punches more effectively, but it can also be used for all kinds of blows.
Title Boxing is a trusted brand.
The exterior is made of durable material.
Strong nylon straps for less noise.
Well-balanced.
Great price tag.
---
#4. RDX Unfilled Uppercut Wrecking Ball Bag
The RDX boxing bag is a good choice if you prefer to fill your heavy punching bags or want to save money. You'll also receive a pair of heavy bag gloves for even better savings.

With a heavy-duty zipper closure at the top, this bag provides maximum fill potential. Stuff it with whatever you would like – clothes, sand, etc. Several customers filled the bag up to 90 pounds. Nevertheless, I believe 70-80 pounds is the maximum weight to avoid tearing.
There is an inner polyethylene foam jacket of 2 inches of density which absorbs shocks. Because of the foam layer, the bag's surface is more homogeneous and makes it easier on the hands. Long-lasting stitching and durable materials make this product durable.
The protruding middle of the RDX wrecking ball makes it easier to deliver uppercuts from various angles.
The punching bag is 23.6″ in diameter and 23.6″ in length, including chains.
This product is rated 4.5 at Amazon
Pros
Unfilled option, it allows you to customize the filling to your liking.
For better shock absorption, the exterior is padded.
Durable leather material and a nice design.
Fills up easily through the top closure.
Heavy duty chains, swivels, and quality boxing gloves are included.
Cons
If you want your wrecking heavy bag to have the best density, you should correctly fill it.
It is recommended for home use.
---
#5. Aqua Training Bag
Modern technology and a unique wrecking ball shape, size, and material allow the Aqua Training Bag to harness the power of water. From fitness beginners to professional fighters can benefit from cardio boxing by using water instead of sand or other typical heavy bag contents.

With its H2O interior, the bag absorbs kinetic energy better than traditional heavy bags, allowing you to utilize your strength and force during each session.
The water inside the teardrop shape reduces impact, providing an intense workout. There are a lot of combinations the weighting system allows, like hooks, uppercuts, straight shots, kicks, knees. Adjust the pressure based on your preferences by adding more or less water. Use tap water to fill and drain the bags.
Aqua punching bags are made with thick-walled vinyl and injection-molded ends to withstand even the most vicious attacks. Moreover, they are waterproof and UV-resistant.
The reviews are very positive for these products
Pros
This product is UV, fade, and waterproof thanks to the quality vinyl cover. You can use it anywhere.
Kinetic energy is very effectively absorbed.
It provides a similar sensation to hitting a human body.
By adjusting the water amount, you can adjust the weight quickly.
Suitable for athletes of any level.
There are many colors to choose from.
Cons
The first wrecking ball bag workout might be strange for someone familiar with traditional heavy bags.
---
What to look for when buying a wrecking bag?
The exterior of the bag
Uppercut punching bags made from leather exterior are usually the most expensive. Even though the price is high, they are still popular due to their natural sensation when you kick or punch. Aside from their durability and comfort, they have a classic appearance.
The wrecking ball punching bag outer shell is often made of synthetic leather. Some top brands use synthetic leather to make their products cheaper while still feeling like leather. While synthetic leather is more inexpensive than genuine leather, it still performs well.
Compared to leather or synthetic leather, punching bags made of polyurethane or canvas are more affordable. It might not be as solid as a bag made of leather, but it will allow you to exercise vigorously.
Material for bag filling
Textiles, clothes filling will help you reduce your shoulder, elbow, and wrist muscles' strain. Training with this material won't hurt you since the material is lightweight and soft. Textured fabrics mold better to the bottom-heavy shape of the bag, even when constantly used. For the right amount of weight and impact feel, most fighting styles use a combination of textile and sand fill.
Sand is your best option when you desire a heavy punching bag. You can use sand as a filler, no matter what the reservoir's shape is. Your shins and fists will get a lot of bruises because of their firmness, resulting in longer recovery times and injuries.
A punching bag filled with water is a convenient option. You can fill or refill the punching bag at any time. Furthermore, the wrecking bag gives a similar feeling to hit a natural body and is homogenous throughout.
---
FAQ
What is a wrecking ball punching bag used for?
Exercise and development can be done with the wrecking bag on angled hooks and proper uppercuts, as well as the jab. When it comes to learning how to throw hooks, uppercuts, and jabs in extended combination of punches, this bag is one of the most effective. In addition, it is useful for improving punching power.
Can you hit a heavy bag without boxing gloves?
MMA gloves, boxing gloves, or hand wraps should be used most of the time when training. It is easy to break a hand or wrist if you punch a heavy bag too hard without hand protection. Even without hand protection, you can punch the wrecking bag, but you must be very careful. Such punches are only suitable for advanced trainees.
How do you hang a wrecking ball bag?
My recommendation is to hang so that uppercuts are more effective than body shots. Depending on how high you hang it, it is obviously useful for practicing any type of punches.
How do to use a wrecking ball bag?
You'll find information on how to hit the wrecking ball/teardrop heavy bag and uppercut bag below. In this video, Tony Jeffries discusses how and when to use the punching bag. If you're thinking about buying a teardrop bag before a heavy bag, you'll want to watch this video first.