There are not many punching bags that work in small spaces or apartments. The problem is that bags need space and when you hit them, they are loud, disturbing the neighbors.
However, those living in apartments or smaller spaces may find some great options because they are portable or compact. Also, with some tricks, you can get rid of the noise as well.
We review some of the best punching bags that we can use in an apartment or small space in his guide. Products that are easy to set up, mobile, compact but still provide effective home workouts.
Top pics
Now on Sale
Fitven Free Standing Bag
Due to its dual PVC shock absorbers and 4 springs, the heavy bag is capable of 360° shock absorption and noise absorption. The rebound is great, it comes back quickly. With its multilayer construction and foam fillings, the FITVEN punching bag evenly distributes the force of punches and kicks.
MaxxMMA 5' Water/Air Heavy Bag Kit
The water chamber is built around an air chamber in a high-frequency welded PVC bladder for high adjustability in weight and hand feel. Your workouts will be more realistic with this because it simulates a real opponent moving. Additionally, the special bladder and removable cushion wrap help reduce noise.
Now on Sale
Quiet Punch Doorway Smart Punching Bag
The Quiet Punch is a doorway punching bag designed specifically for the home. Easy to install with no tools required and completely temporary. This workout is easy on the joints and includes a wide variety of exercises. Portable and lightweight, the device is ideal for traveling. It weighs only four pounds.
Types of Apartment-friendly Punching Bags to Consider
Let's go over some of the leading traditional punching bags to see which is the right one for a small space.
Free standing punching bags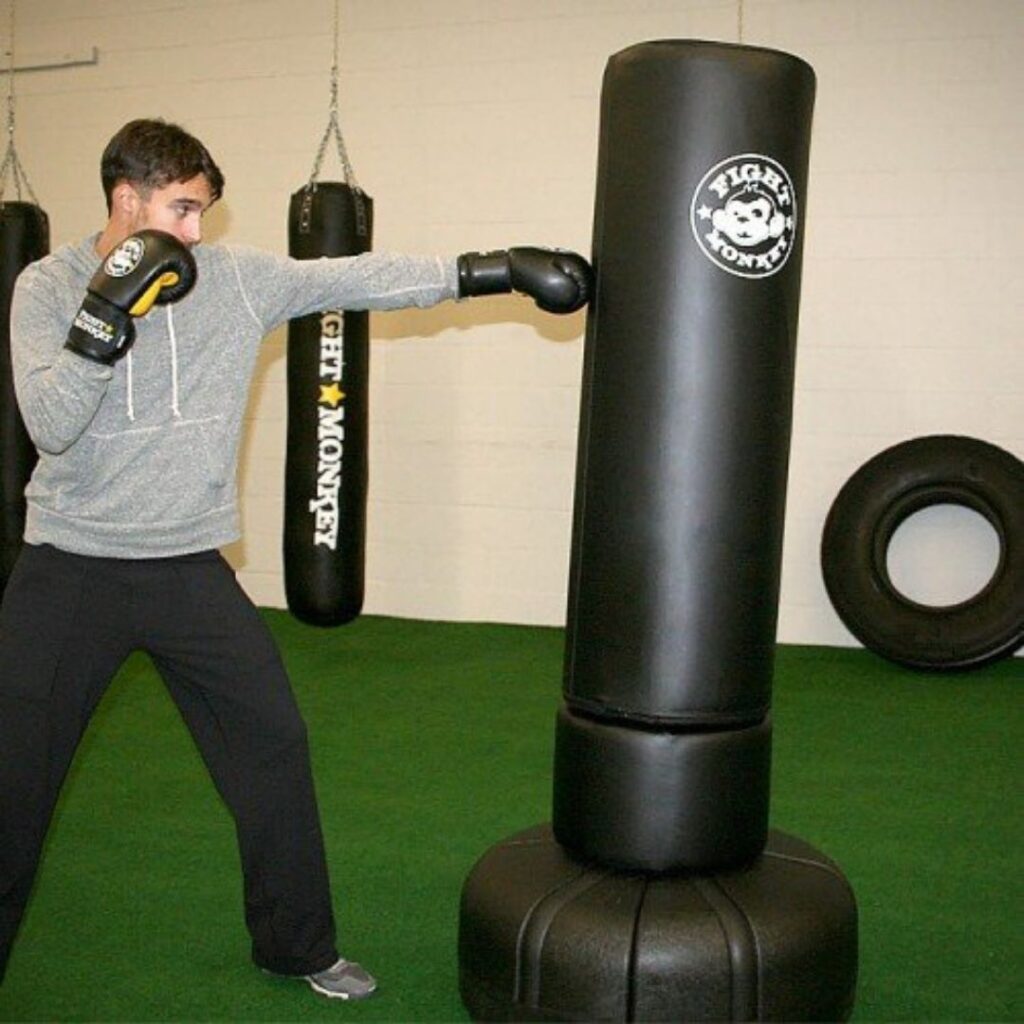 Free-standing punching bags are a great way to work out your upper body, legs, back, and core since they are suitable for punches and kicks. Standing punching bags differ from hanging punching bags in that they do not need to be suspended from the ceiling. A heavy base keeps the bag in place or stops it from falling over. It doesn't require a dedicated space and is portable, so you can store it wherever you like after the workout. They come in several different shapes and sizes.
I think the best heavy bags for an apartment or small spaces are the free-standing bags for their mobility, compact sizes, and versatility.
Most standing bags are made of high-density foam, so they make less noise when kicked or punched. We can also reduce the sound of the bottom and make the bag more stable by placing a thick rubber mat under the base.
Noise level: 👍👍👍
Good for: kicks, punches, cardio
Easy of install:👍👍👍👍
Hanging heavy bags
A heavy hanging bag is one of the most challenging pieces of equipment to install in the home gym. Much more complicated than the floor-standing heavy bag.
We can hang to the ceiling or use a wall-mounted hanger. Both ways are pretty complicated in an apartment. And, even if we can do the installing, it's quite annoying to mount and unmount the heavy after the training to have space.
If we have no place or a strong anchor point to hang the bag, we can use a heavy bag stand instead. But, it requires space and might be noisy.
To reduce noise from a heavy punching bag, but one with straps and not chains. Also, you can use a traditional heavy bag striking sleeve with gel lining that makes the punches and kicks less noisy.
Noise level:👍👍
Good for: The most beneficial for martial arts training
Easy of install:👍
Doorway Punching Bag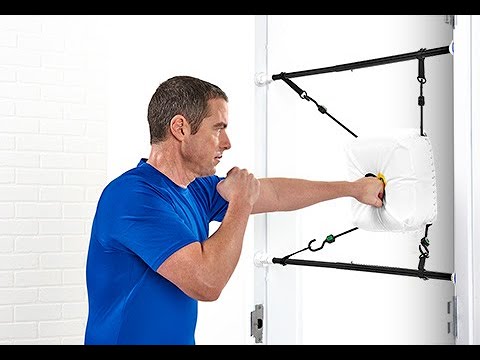 If you live in an apartment or have little space and still want to engage in some bag work, the doorway punching bag can be an excellent choice. However, these bags don't usually offer the most challenging, professional punching sessions. Doorway bags are designed for speed work, hand-eye coordination development, precision punching. These types of boxing bags are suitable for conditioning and cardio training as well.
The bag doesn't make a lot of noise and is ideal for small spaces and quiet environments. Also, the installation is simple, and we can quickly remove it from the doorway after the workout.
If you are looking for a simple way to practice punches and modify your at-home workout, a doorway punching bag is a good option. But, for a better boxing experience, you need a heavy bag.
Noise level:👍👍👍👍👍
Good for: basic boxing training
Easy of install: 👍👍👍👍👍
Double end bag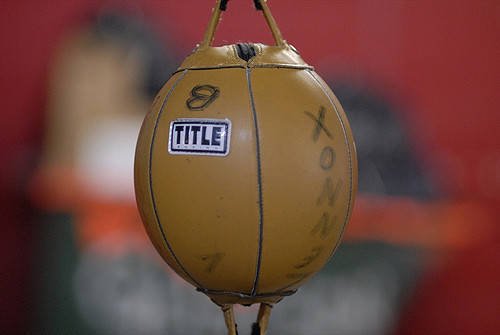 The double end bag is a training aid that can help a boxer or a fighter improve his or her hand-eye coordination, speed, timing, accuracy, and other defense and offense skills. To use it well, you will need to learn some basic punching techniques. (For starters, you will need to learn how to throw a jab and a cross at least) A double end bag is a versatile tool. You can use it to help you practice your punches or use it to practice footwork.
It's a light, air-filled bag attached to the ceiling and floor with flexible bands. Because it moves unexpectedly, it is ideal for learning all kinds of boxing skills and conditional training. But you can't use it for power punches.
Typically, double end bags are easy to install and don't make much noise.
Noise level:👍👍👍
Good for: Improving boxing techniques
Easy of install:👍👍👍
Note: I don't recommend the speed bag because it's too noisy.
Best Silent and Compact Apartment Punching bags
Punching bags are great for getting fit and relieving stress, but which one is right for you depends on what you want to achieve and where you want to put it. If you're thinking about buying a punching bag for the first time, here are a few products to check out.
Top Pick
1. FITVEN Freestanding Punching Bag with Suction Base
Spring-loaded mechanism
Compact size
Noise reduction
Reasonable price
With dual Shock Absorbers, Xsport Pro's freestanding punching bag is robust and versatile. Intensive resistance training gets more enjoyable with a reduced level of vibration because there is less interference. Also, that feature makes the bag less loud.
The heavy bag is made with a solid ABS tank and 12 strong suction cups underneath. It works great on smooth surfaces. We can fill the base with water or sand. The sand is better since it makes the bag weigh 200 lbs giving better stability for the equipment. The weighted base with suction cups stops the bag from moving. Hence, it's quieter.
The high-quality multi-layered punching bag provides more strength and a better buffer to minimize the risk of bruising your wrists and breaking your hands. Also, its good shock absorption and durability bring it a good rebound effect.
It's also easy to assemble and requires about 10 square feet.
A pair of premium boxing gloves come with the bag as well. These gloves have PU leather anti-wear, EVA padding, a breathable mesh, and a robust hook closure system.
Fitven is an excellent hanging heavy bag alternative for an apartment.
Pros
Easy assembly
Compact
Stable base
Rebounds
Good value for the money
We get boxing gloves for free
Cons
The hitting surface is a bit narrow.
For more free-standing punching bags, click here.
Best hanging
2. MaxxMMA 5' Water/Air Heavy Bag Kit with Adjustable Weight
Adjustable weight from 70 to 140 lbs
5 feet long
Special water and air filling
With extra accessories
If you stick to a hanging bag, this boxing bag for apartments is worth considering since it's quiet. The weight is also adjustable so that you can align it with the anchor point's strength.
MaxMMA punching bag has combined water/air bladders which add a more lifelike feel. The bag has an innovative high-frequency welded PVC bladder with a built-in water chamber around the air chamber for increased adjustability in weight and hand feel. The water and air move throughout the bag with this technology.
An additional layer of protection comes from a removable cushion wrap that also prevents the bag from being too noisy. The synthetic leather shell has also been enhanced to reduce the impact you feel from your hits.
This punching bag has an adjustable maximum weight range of 70 to 140 pounds and measures 5 feet long. Considering that a bag's weight should be about half of the user, this heavy bag is suitable for people from 140-280 pounds.
This bag is not the only thing you get, but you also get gloves, wraps, and a jump rope—everything to start your boxing training at home. It's the best boxing bag for apartments out there.
Pros
Great for any martial arts
Better hitting surface thanks to water.
Adjustable weight
Easy on hands
Cons
 It should be hung 8.5-9' at least off the ground.
More reviews: Best heavy bags for home use
Versatile
3. Century Versys Fight Simulator
Ideal for standing up as well as for ground-based exercises
Weighs 112 pounds
Height 65 inches
Suitable for multiple martial arts
The Versys Fight Simulator is one of the best free-standing heavy bags on the market. Versys combines a heavy bag and grappling dummy in a single device. It weighs only 112lb so that you can throw this bag to the ground and practice takedowns and stuff like that. Contrary to traditional free-standing bags, we can easily take this bag to the ground since its base is relatively small.
There is shock-absorbing foam over the entire surface of the bag, which measures 66 inches tall. You can practice in various positions, thereby improving your ability to throw high and low kicks.
Versys is relatively lightweight, so it doesn't lend itself well to high-powered striking drills. Instead, we should use it to work on explosive power, endurance, and transition to the ground.
Century is known for its high-quality products, including the Versys Fight Simulator. The Versys has thick foam padding and durable vinyl covering. You'll also save time by not having to fill in the base, as this heavy bag comes already filled.
Check the promo video
Pros
Great tool for martial arts that require grappling.
Durable and convenient materials.
Handles at the top and bottom
Great tool for conditional workouts.
Cons
Not suitable for power strikes
Not the best option for pugilism
More reviews: Best grappling and punching dummies
Very quiet
4. Quiet Punch Doorway Flat Punching Bag
Quick door frame installation
Height adjusts
Extremely silent
It fits doorways between 28″ and 36."
This quiet punching bag for apartments is different from the others on this list. However, it is very effective to practice boxing punches and have a tremendous fat-burning workout.
Installing and removing it is done in a matter of minutes. It's built from durable materials and comes with a phone holder so you can watch videos while exercising. That feature is helpful for beginners when they are at the phase of learning the basic punches and combinations.
This bag is specifically designed to be extremely silent, hence its name. Unlike regular punching bags, it does not rely on chains to keep it in place. Instead, it uses durable nylon material, which also gives a good rebound.
You can conveniently take it with you wherever you go once you take it down, making it the perfect exercise equipment if you're traveling a lot.
This punching bag for a small apartment is undoubtedly a bit different. However, it is indeed well suited for compact areas, making it one of the best punching bags for apartments you can find.
Of course, this bag isn't suitable for heavy bag training, but it's a perfect choice for cardio-based workouts. It's the best doorway punching bag for apartments.
Pros
Very quiet, so you don't disturb the neighbors.
Portable
Easy installation
Perfect for learning pugilism basics and conditional training.
Cons
Not suitable for power punches.
Not suitable advanced athletes.
For cardio
5. Century Aerobic Wavemaster
Made for cardio workout
Weights 170 pounds if the base is filled with sand
Adjusts from 53.5 to 65.5 inches
Hand-friendly and quiet punching surface
It is a standalone heavyweight bag from the Wavemaster series with exceptional strength and durability at a great price point. As opposed to the Powerline, which can handle heavy strikes, the Aerobic is much lighter and has more cardio focus.
The punching bag weighs 170 lbs, so it's easy to transport. The base is also round in shape. You can easily roll it around. After your workout, you can easily store it, for example, in the corner of the room. However, if you decide to really go at it, you may get knocked down easily. Hence, I don't recommend it for those who need a bag for power punches and kicks. But, it is still a great home workout equipment if you want to work on your technique or do a cardio workout at home.
The bag's height can be adjusted from 53.5 inches to 65.5 inches so you can set it to your height or training goals. The bag measures 10.5 inches in diameter.
High-density foam is used to fill the bag's interior that provides a safe and quiet hitting surface. But, using boxing gloves is recommended.
We can fill the bottom of the punching bag with water or sand for extra stability. The sand is heavier, so I recommend that. This heavy bag comes in red, black, and blue colors.
Pros
Relatively easy to move around
Convenient hitting area
Compact and unique design
Perfect for conditional training
Cons
Not suitable for power hits, it falls over.
A better choice for women, teenagers, and kids.
Limited surface area
Bundle
6. Everlast Dual Station Heavy Bag Stand
Complete bundle with all required equipment
Speed and heavy bag hangers
Quality bags (100 lb heavy bag)
If you're starting and haven't bought your boxing equipment yet, then this bundle from Everlast is definitely for you.
The Everlast Dual Station Stand Bundle has everything you need in one package: a speed and a heavy bag stand, a heavy and speed bag, gloves, and hand wraps. With this bundle, you can start your boxing training at home.
If you can't hang a heavy bag for some reason at your apartment, a stand is the best option. The downside is that a frame requires some space to do heavy bag training comfortably. The entire setup may look huge, but it only has a footprint of 66.5 x 47.6 x 86.2 inches in reality. The stand is made of durable hollow steel tubing, but you'll need to purchase the add-on weights separately.
If you don't need the speed bag, you can buy the basic Everlast heavy bag stand without a speed bag platform instead, which requires less space since you can put it in the corner.
Weights can be added to the pegs at the bottom of the stand so that the stand will stay in place when you're working hard. I also recommend placing a thick rubber mat under it to lower the noise.
The bundle comes with a 100-pound heavy bag which is optimal for an average-weight man. While for most women, it's too heavy, we can lighten it by removing some filling.
The bags are made from Everlast's Nevatear, synthetic leather that holds up well to beatings. It's cheaper than genuine leather but not quite as durable.
You can adjust the speed bag platform's height by twisting two knobs on the platform. Since good speed bag platforms are pretty expensive, it is excellent that this quality platform was integrated into the stand. Although, you can purchase much better speed bag swivels in the market if you are not satisfied with the plastic one that is included.
Assembly takes about half an hour. The bags are also ready to use.
Pros
All equipment you need for boxing at home
Perfect for developing punching power and techniques
Easy assembly
Quality punching bags
Cons
We should buy weights for the pegs separately
Need more room
For skills
7. Ringside Leather Double End Bag
5″, 7″, 9″ sizes
Leather shell
Affordable and great for limited space
Ringside Double End Bag is an ideal bag for beginners and advanced boxers. It's affordable and lets you train without breaking the bank. Despite its affordable price, the design is durable, and the materials are good.
Those looking for a decent double end bag for an apartment at a great price should consider buying the Ringside Leather Double End Bag. The bag is made of quality leather with reinforced loops, but some have complained about the stitching.
You can pick from 3 bags that correspond to a different skill level (5 inches, 7 inches, or 9 inches). Beginners would use the 9-inch bag, intermediate players the 7 inches, and experienced hitters the 5-inch bag. If you're new to using the double-end bag, I recommend you start with the 9-inch bag.
One of the most common complaints is that the elastic bands are not adjustable and will wear out over time, thus losing their elasticity.
Pros
Great for developing punching techniques because of being a moving target.
Different sizes for various levels.
Leather construction
Affordable
Cons
Elastic bands aren't adjustable.
How to choose punching bag for apartments
Best filling and exterior material
More reviews: Best double end punching bags
How to choose punching bag for apartments
Best filling and exterior material
Genuine leather bags are the best for sure, but they are expensive. Synthetic leather and vinyl material are durable and much cheaper. In addition, they are easy to clean. We just need to wipe them after the workout with dry clothes.
The filling can be anything from clothes, rugs, foam, or other synthetic and natural materials. Foam punching bags with linen or filling may be quieter and maybe safer on punchers' knuckles.
Size and height of the bag
The rule of thumb is to get a hanging bag that is about half of the user's weight. Lighter-weighted bags swing faster, so they are better for practicing punching techniques rather than punching power.
If you prefer free-standing punching bags, the rule is similar. A heavier person will need a more robust standing bag that's more unlikely to fall over.
If your primary goal is boxing training, a shorter, 3-4 long bag will do. For other martial arts that require kicking, you need a longer bag.
Location of the punching bag
If you live in an apartment or have only a little room at home for a punching bag, plan where you will use it. How much space will you need? Basically, a heavy bag doesn't require much space, but we should move it around. Because of this, I suggest that you have at least 5 feet around the punching bag.
Whether the punching bag will be freestanding or hanging
I think a free-standing bag is better for a small space for its mobility, and because of that, no installation is required. But, that depends on your workout aims. An excellent hanging bag is a necessity if you're serious about boxing. Otherwise, a stand-alone bag is all you need for basic boxing and fitness training.
Conclusion
A punching bag is one of the most helpful boxing and martial arts training equipment there is, and it's perfect for both professional and amateur use.
However, not all punching bags are created equal, and some are better suited for home use than others. A punching bag's primary purpose is to absorb blows, kicks, and strikes, so it's not surprising that the more it absorbs, the better it will be for your training.
It's critically important to pick the right small punching bag for an apartment for your workout goals and space. If you live in an apartment, it's harder to pick a bag, but the products above are optimal for small spaces and provide a good workout experience.
Learn more: What are the Best Punching Bag Alternatives?