If you're serious about boxing or martial arts, you probably want to invest in a good punching bag for your home. A freestanding punching bag is an excellent option among the many types of bags available today. They are just like regular heavy bags, but they are anchored to the floor instead of being hung from the ceiling. They provide a reliable workout and can be more accessible to some people with limited training space.
The following benefits are among the most important of owning one.
Setup is simple – no installation is necessary
A common problem with hanging bags is that people don't have a place to hang them or can't hang them safely. Plus, it's quite challenging to take off and put on the gear once it's installed. Hence, a dedicated area is required.
The setup process for a freestanding heavy bag is simple. Some models are already assembled, so you just have to fill the base with water or sand. Mounting the bag to the base may be necessary on some other models, but it usually does not take long.
The only thing you need to do is fill up the base, and you are ready to go.
It takes up less space
In comparison to hanging ones, standing bags do not swing as much. They are relatively static.
In addition to that, you can simply roll it away when you don't need it since the base is round. However, oversized bags can be heavy, sometimes up to 250 pounds, so relocating equipment is much more difficult.
Different styles of freestanding bags
I would put them into three groups.
Best for Fitness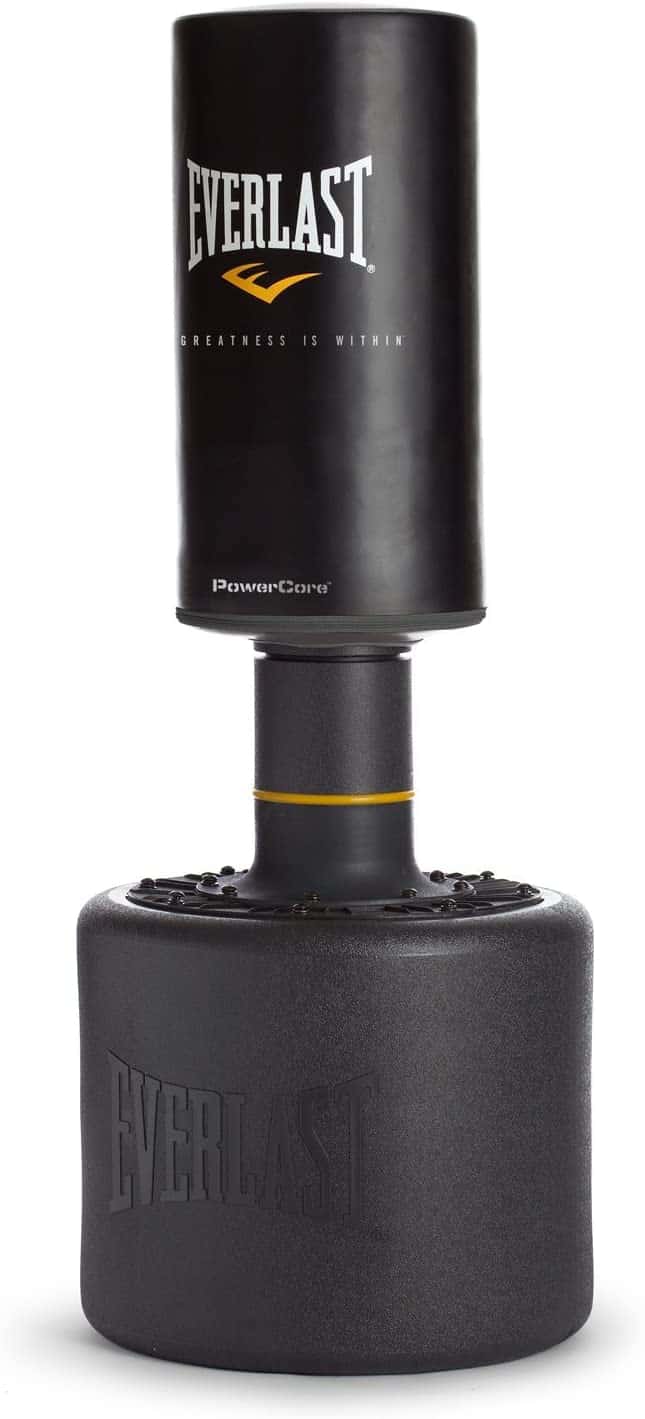 Bags with "neck"
These types come with a flexible "neck," and they are more willing to swing and bounce better because of that. This makes them harder to hit and helps hand-eye coordination, timing, and accuracy.

But, these types of freestanding bags are more willing to fall over or break. Hence, they aren't suitable for power punches. I recommend these for fitness training.
Best for Professional Training

Big, bulky bags
These gigantic gear carry a lot of weight, have no neck, and are very heavy. They have a cylindrical shape and a long body. This device is far more durable and sturdy, therefore, able to withstand hard punches or kicks. That's why they are used in commercial gyms. I recommend these types to those who are serious about martial arts.
Great to practice body and had shots

Body Opponent Bag
The good thing about a BOB is that it has a human-like upper body. This makes practicing body shots and head shots much better, and gives more realistic training. Typically these bags are stable and give a professional training experience.
Beginner-friendly – good for fitness training
Since it's more static for a beginner trainer is easier to land punches on the bag. That way, for those who want a great cardio workout and don't want to go deep into any martial arts, this type of heavy bag is maybe a better option.
Bag work allows you to work on your balance, build strength through your body, and even improve your cardiovascular fitness. Heavy bags can also help you burn calories, reduce your stress levels, and improve your posture.
Softer punching surface
Most of the model's hitting surface is softer than standard hanging bags have mainly because the manufacturers use high-density foam instead of rugs or other fabric. Thus, kicking and punching these are easy on your wrists and legs. Hence, they're better choices for people who want to use the bag for fitness.
We can perform high kicks and low kicks with larger bags
Long freestanding bags are used for many combat sports since fighters can practice high and low kicks, and knee strikes more effectively than if they were using a hanging bag. However, you should get a bulky bag with an outstanding balance for kicks and professional use, such as Wavemaster XXL or Ringside Elite. Shorter and cheaper equipment will fall over and can break quickly.
Whether you're training to be a pro or just want to take your workout to the next level, a freestanding bag is something that everyone should own. Great for improving your power, endurance, striking strength, and movement, a bag can help you build an incredible physique.