To use a punching bag effectively and safely, you need a strong anchor point. The best option is, without a doubt, the ceiling-mounted heavy bag. But, what if the structure of your house doesn't make it possible, or you can't have a dedicated place?
There is a wide range of heavy bag stands you can buy to solve this problem. But, if you are familiar with working with wood or steel, you can make your custom homemade punching bag stand. This way, you can create a holder that suits your needs, the weight of the bag, and the area you have.
Here I've put together a list of the best DIY plans.
1. How to Make an Outdoor Heavy Bag Stand using Two Wooden Beams
For less than $50, you can set up a heavy bag stand in your front or backyard. This is an easy installation that works well. As you can see, the man uses a punching bag weighing 100 pounds, and his stand is very stable. Of course, you will need to use thicker posts for heavier boxing bags, and you must be more careful with fixing the points. The beams must have a 45-degree angle for maximum strength.
The best is that after your training, you can fold it up or uninstall the beams so that you can save a lot of space.
---
2. Homemade DIY boxing bag stand
This is an excellent video tutorial to check out if you're interested in building a freestanding punching bag stand. To construct this stand, two 4×4 posts were used.
When building your DIY punching bag hanger, you should first consider making sure it is the right height for you. If you haven't but a bag yet, you should know that a typical boxing bag is 4-5 long while kickboxing, Muay Thai bags are over 6 feet. The top of the bag should be above your head, and enough room is required for swinging.
After cutting all the wood needed, the video goes into detail about how to put the stand together. Nails, glue, a drill, and some glue are required.
If you build a poor stand, your boxing bag could fall off once you hang it. So, add more extended stabilizers at the bottom. The best is that if you drill the stand down or put some sandbags on it to weigh it down.
This construction can be used as an outdoor or indoor punching bag stand. If you use it outdoors, protect the wood with quality paint.
---
3. Homemade punch bag frame
Compared to the previous DIY projects, this construction requires more wood, but we can have a frame for more bags. Also, we can add a pull-up bar to it.
You can see in the video that the rack was stored in a garage where it could be attached to the walls and the floor. If you want a freestanding version, perhaps for your backyard, you will need a pedestal to mount the system. In the absence of such an option, you should make very long bases that are well constructed so that the frame will not wobble and fall over.
This plan requires the most wood among the projects here, but if you make it right, you will have a frame suitable for multiple punching bags and suitable for bodyweight training.
---
4. Compact and cheap DIY heavy bag hanger
This is a tutorial on how to make a wooden heavy bag holder from 2x4s lag screws. This heavy bag hanger is ideal for those who prefer wall-mounted punching bags or are on a budget. To use this setup correctly, only attach the stand to a strong wall that can hold the force of the swinging bag.
---
5. Homemade boxing bag stand
This plan is very similar to the second tutorial. The difference is that triangle supports are added to the base for better stability. Plus, it can be used as a pull-up station as well. I think it is a reasonable construction for a typical bag.
---
6. DIY Punching Bag Stand from Steel
We used two lengths of square tubing to accomplish this project, each measuring two inches by two millimeters thick.
The following tools will be needed:
welding machine and welding rod
grinder cutter
Although this stand design is proven to be stable for light boxing workouts, you'll need to make a heavier design if you're a heavy puncher so that it won't move.
A similar project can be found here.
---
Other tips on how to build a stand for heavy bags
Punching bag stands that aren't heavy enough or that are too limited in their basement tend to move or tilt a lot. Therefore, I recommend using "more materials" to make a stand heavier.
Make the stabilizers of the base wider to increase its effectiveness. The best solution is to fix it on a concrete pedestal. If you cannot fix the stand down, you can attach pegs to the base to place weight plates on them to weigh the stand down. Also, place a thick rubber mat under the rack, which stops slipping and makes the stand quieter.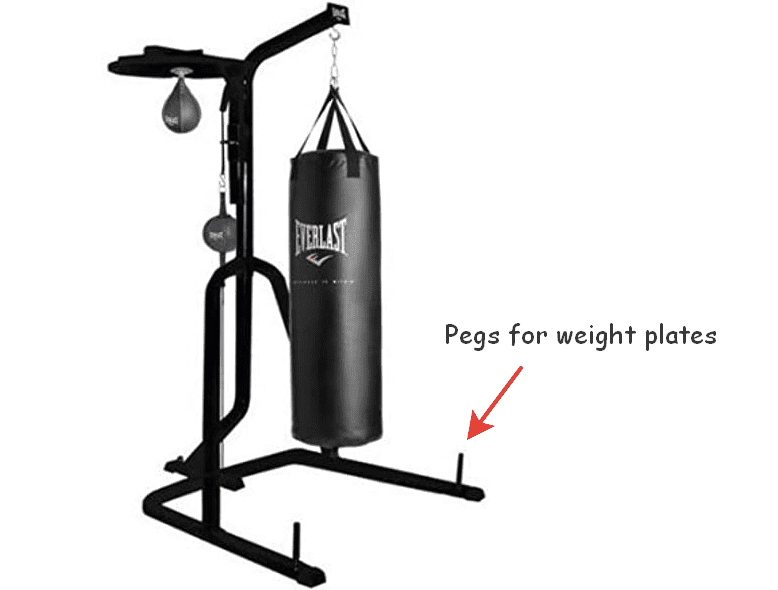 In addition, I suggest you build a taller stand since the bag chain can be adjusted to your height. A low bag makes it difficult to train effectively. Also, pay attention to the diameter, shape, type, and straps of the bag when planning your DIY project.
To minimize the swinging of the bag, you should get boxing equipment that has a D-ring (bungee hook) at the bottom. So, you can fix the bag at the bottom to the ground with a rubber band.
Finally, if you think about an outdoor punching bag stand, it is important to protect the wood or steel from weather conditions.
Conclusion
If you are looking for a good workout, working out with a punching bag has many benefits. You can work out your stress, relax after a long day at work, and you can even learn how to defend yourself if you know how to hit the bag right. A bag can be very effective in training you. However, setting up a heavy can be quite a hassle, especially if you do not have the right ceiling beam. I hope these tutorials will help you create your homemade DIY punching bag stand that will work like a charm at your home gym.