If you have just started boxing, it's maybe difficult to remember, and don't mix up the various basic punches. It's pretty annoying when an application or your coach calls out the numbers of punches, and you can't throw the right ones. The situation is even worse when you need to throw buying combinations with 3 or more blows. 😒
Punching bags with numbers can help you a lot to get started since punching numbers are clearly seen. This way, you can get familiar with the various punches much faster and make your boxing training more enjoyable from the beginning. 🥊
Within this guide, I will show you a few bags that are perfect options for beginners and more advanced fighters. 👍
#1. Core Home Fitness FightMaster Boxing Trainer 🥇
Pads with numbered targets for every punch or fight combination.
The exclusive composite rod arm design provides maximum injury protection and efficiency.
The lower and upper shuttles adjust to fit athletes from 5'0″ to 6'6″.
You can use the Core Home Fitness App to access free video workout tutorials on your computer, tablet, or phone.
Portable.
Each target is attached to a patented reactive rod system, which makes its design unique. As you connect with these rods, a slight give is provided in the pads to replicate punching a mitt.
FightMaster was made to simulate different punching styles, so you can throw any punch or combinations you want. The result will, without a doubt, be a better punch output and combos.
Multi-pad is an outstanding feature that sets the FightMaster apart from other boxing pads. It simulates the opponent's head. Like no other machine on the market, it allows you to throw uppercuts at multiple angles to this area.
With the FightMaster's adjustable upper and lower shuttles, the machine can be customized to fit any user. Therefore it fits teenage and adult heights of 5'0″ to 6'6″.
FightMaster offers online training so you can maximize your workout results. Rai Fazio, the inventor of The FightMaster and former champion boxer, has created training videos to assist you in using it. You will learn how to adjust the device to fit you, how to use the proper boxing stance and movements, how to throw the punches properly. Of course, you can go through multiple different workouts for different purposes. Get the Core Home Fitness app for Android or Apple!
Additionally, the FightMaster is mounted on wheels, allowing you to move it out of the way after being used.
What are the cons?
It isn't suitable for power punches. If it is hit hard, it shifts. Hence, it's recommended to weigh it down with sandbags.
Read more customer reviews.
---
#2. Wavemaster 2XL Pro with Scoring Zones 🥈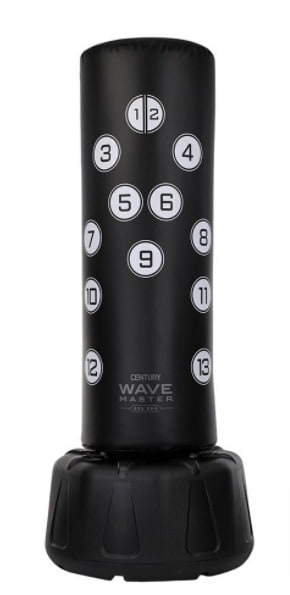 The XXL punching surface offers specific training and combinations zones.
The base has a low profile, making it stable and functional.
Large hole and cap for filling.
Comfortable and durable hitting surface.
Fits all athletic levels and types of martial arts.
The Century Wavemaster XXL is among the most reliable free-standing punching bags that provide an excellent workout experience, safety, durability, and the perfect option for all sorts of martial arts. That is why it is the runner-up on our standing bag list. This version comes with almost the same features in size, used materials, etc. The only difference is that it is a punching bag with numbers, so it's easier to use for those starting combat sports.
Wavemaster 2XL Pro features high-density foam padding for excellent impact absorption, plus a longer striking area so you can practice kicks and punches. A tapered base provides a comfortable stance for athletes of all sizes.
It measures about 67 inches high and 18 inches wide. It's made of high-quality material and has a broad punching surface for striking. A punch or a kick can easily hit the vinyl cover since it is highly durable.
Low-profile bases ensure it is very stable since they distribute weight evenly. This allows you to train harder without losing stability. To make it sturdy, it is typically filled with water or sand through an extra-large fill hole. The boxing bag with numbers will weigh approximately 270 pounds. It is a convenient exercise accessory that requires no tools to assemble.
The only downside is that it is large, so it's hard to move around.
---
#3. RDX Ronin 4ft Kids Free Standing Punching Bag With Numbers 🧒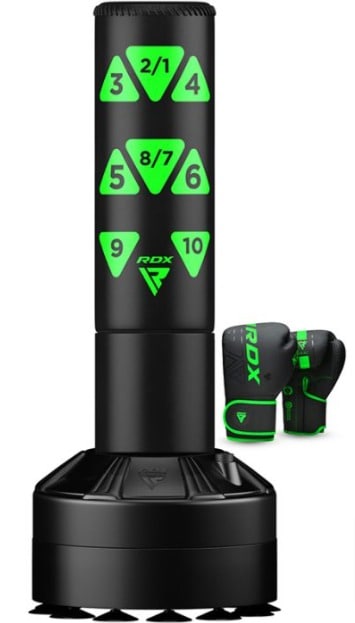 It's great for kids, and the gloves are fantastic.
Save and comfortable hitting area.
Portable.
Easy assembly.
Numbered boxing bag to learn the basic punches easily.
Multiple colors to choose from.
Kids can start their combat sports training at an early age with the Ronin Junior free-standing punch bag. They can boost punching and kicking skills, build endurance, and increase agility with this portable junior punch bag. Children can practice indoors and outdoors, thanks to the non-hanging design.
The ultra-durable, multilayered Maya Hide exterior, along with its high-density foam filling, provides maximum punch resistance and reduces wrist strain in individuals with smaller wrists.
An innovative connector with a densely padded grip prevents excessive swaying. With a total height of 48 inches (122cm), this punch bag can be used as a stress reliever, calorie burner, and skill-improvement tool.
By opening the wide side opening, water and sand can be added to the bag without removing the connector from the base. Bags filled with water weigh approximately 110 pounds (50 kg), and bags filled with sand weigh (143-165 pounds (65-70 kg). In addition to providing a longer hitting area, the high-density foam collar reduces excessive swinging and adds greater security to the bag. RDX Ronin is the best piece of equipment for your kid's early training.
Your kids will love these MMA, Boxing, and Kickboxing target maps in 7 vibrant colors, which will increase their hand-eye coordination and enable them to train at a whole new level.
Of course, it isn't suitable for adults, maybe for short women.
---
What to consider when buying a heavy bag with punch numbers? ⚠️
Free-standing or hanging
Free-standing bags are portable bags that have a round foundation for portability. Equipment of this type is the easiest to handle. It can be stored anywhere with no problem.
In addition, stand-up models are an excellent choice for kicking exercises. Due to its center of gravity, the standing punching bag maintains its standpoint when kicked. Punches can also be made with it, so it is a flexible option all around. This could be the best punching bag for beginners and a good choice for nearly any martial art (kickboxing, Muy Thai, MMA).
As a hanging punching bag, you can hang it on the wall or from the ceiling. These bags are recommended for punching workouts, although longer bags can be utilized for kicking. The straight punch (jabs, crosses) and the hook are particularly effective with this kind of heavy bag.
The weight of the punching bag
A hanging bag should be about half of your weight since it will provide you with enough resistance and also allow you to practice different boxing techniques.
In the case of free-standing bags, it's better to purchase a bag that has a huge and heavy base that can be filled with a lot of water or sand. This way, it will be more stable, and so you can avoid tilting or falling over.
If you purchase a free-standing bag, it's best to get one with a huge and heavy base that can carry a lot of water or sand. As a result, it will be less likely to tip over.
The inner and outer material
The exterior, in most cases, is vinyl which is a durable material. It is also easy to keep clean. I would advise against canvas bags because they tend to break easily. The best bags are leather bags, but they are expensive and require maintenance.
The numbered boxing bags above are all made of synthetic leather or vinyl.
Additionally, stuffing plays an important role. In most cases, hanging bags contain clothes, rubber mulch, sawdust, or even rice, so they are a bit stiff. On the other hand, standing bags are padded with thick foam that makes them very comfortable to hit.
FAQ ❓
What are the basic punches and the numbers?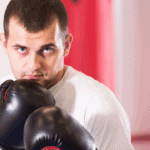 1 = Jab
2 = Cross
3 = Lead Hook
4 = Rear Hook
5 = Lead Uppercut
6 = Rear Uppercut
What's the best way to fill a heavy bag?
When you use sand and sawdust, your bag will be heavier and denser, which will be impossible to achieve with only fabric. Sand or sawdust is a simple, inexpensive solution if you want your bag to exert more force. Be sure not to fill the boxing bag with only sawdust or sand.
Should I hit the bag with boxing gloves and wraps?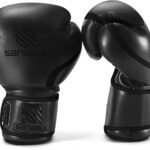 To protect hands and wrists during impact, beginners should always use both wraps and gloves. The wrap-around closure on heavy bag gloves simplifies putting them on and taking them off. They're often also constructed with a heavy, dense foam so that your fists are protected when you hit a hard bag.
To conclude
I hope you found a punching bag with numbers that suits your needs. If not, look around this website since we have many reviews and suggestions on various boxing equipment. Also, you can find a lot of tips on how to start boxing.