As they say: "Punching bags don't hit back." This way, we can't practice various defensive skills required for boxing or any other martial arts to be successful. Without a doubt, the best is that if we have a sparring partner, but not everyone – like me- has that option.
To cure this problem a little bit, we can find a few types of punching bags that allow us to improve our defensive skills at home. Of course, they aren't as effective as if you were fighting with someone, but they help to improve your skills without a doubt.
I'll show you some of the best punching bags that hit back within this guide.
---
What are its features?
The design of this equipment allows you to have a very effective defense.
It features a 360-degree rotating bar. It is constructed from padded stainless steel with precision bearings enclosed in a sealed encasement to provide maximum speed.
If you punch the spinning bar, it will come back and hit you if you don't duck, roll, or move away from a distance. Due to this, you are always aware of when and how hard you hit the bar, so you must constantly move or react accordingly. This enhances speed, reflexes, and movement.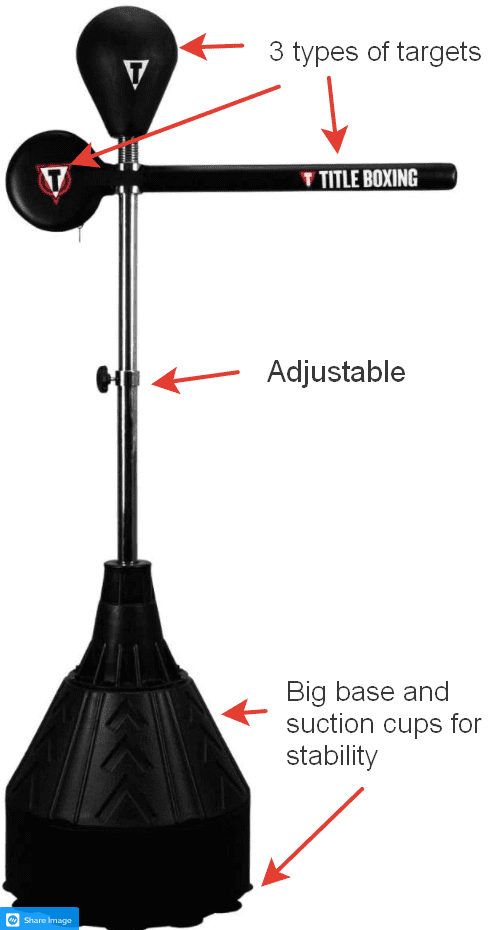 Additionally, at the top is a padded punch bag so you can simulate punching the head and practice counter-punching. This densely molded foam striking ball is ideal for punches and combined strikes.
This free-standing punching bag has an adjustable neck. We can adjust the unit from 60″ to 78″. That means we can set it to our height for optimal training.
This punch bag comes with rubber suction cups for maximum stability, and it can be filled with water up to 250 pounds. That gives good stability to it.
What are the downsides?
There are some users who think the rotation of the sparbar is a bit slow when it hits back. It might help, however, to apply some lubricant.
A few people find the punching bag unstable. The suction cups won't work if you don't use them on a smooth surface, such as tiles. Instead of filling with water, you can use sand to make the base heavier. However, moving may come from powerful punches, which is not what this equipment is designed for.
With the assembly, you should be careful as well. Before installing the arm, don't screw in the top. It cannot be removed once it is attached. Once it is attached, it cannot be removed.
Is it for you?
If you are searching for a punching bag that hits back for moderate training, the Title Boxing Rapid-Reflex Boxing Bar can be a good choice for you. Useful as a speed and precision trainer. Get a heavy bag if you want to practice heavy shots. This will help you with your reflexes and speed. Read more customer reviews 
---
Why is it good?
If you are lack space or searching for a more affordable product, this wall-mounted option is for you.
The device comes with a padded, 26,6 inches rotating bar which moves pretty fast if you want.  You won't get hurt when the spin bar catches you because it is well padded. Actually, it is used by beginner MMA fighters who say they can practice their defense techniques well with it.
The system also has a reflex bag at the top to practice headshots. The inflatable ball is on a spring giving adequate bounce for the bag.
Of course, you need to install it on the wall to suit your height. But, you can change the height of the bag and the rotating bar after the installation as well.
What are the drawbacks?
You should install it on the wall very carefully and tightly. If the holder isn't horizontal, it makes the movement of the bar awkward. So, if you aren't familiar with fixing things to the wall – like me – you'd better ask for help.
Also, it isn't quiet. But we are talking about a punching bag.
Is INNOLIFE Wall Mount Punching Spinning Bar for you?
In addition to being very sturdy and easy to use, this boxing equipment is also quite fun to use. Using this tool will help you gain better hand-eye coordination, timing, reflexes, and footwork. You should be careful during the installation process, but you can improve your boxing skills once you are ready. Read more customer reviews 
---
3. Double End Bag – My Favorite Bounce back Punching Bag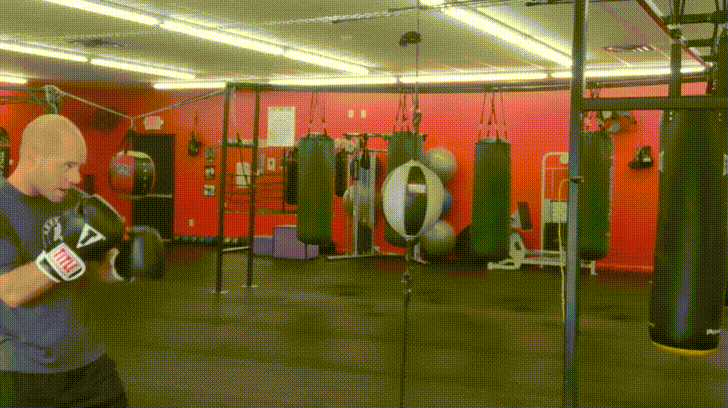 Double-end bags are small, circular, elastic-tied bags suspended from the ceiling and the floor by an elastic cord. Different sizes, shapes, and rebound elasticity are available. It is a versatile tool for training punching skills in various ways.
If you want to maximize the benefits of the double-end bag, concentrate on punching volume. The bag's quick movement makes you time your punches better, feel its rhythm and measure its distance at different points.
The double end bag also reminds you to move your head. If you aren't careful, the bag can bounce back and hit you in the face. Keeping your hands up or your head moving is vital as the bag bounces back.
Double-end bags constantly move as a result of consistent action and reaction. You will need to keep up with the rebounding bag's pace.
They are all skills you need to develop when facing an actual opponent. To tell the truth, it's my favorite boxing bag that hits back.
---
4. Speed Bags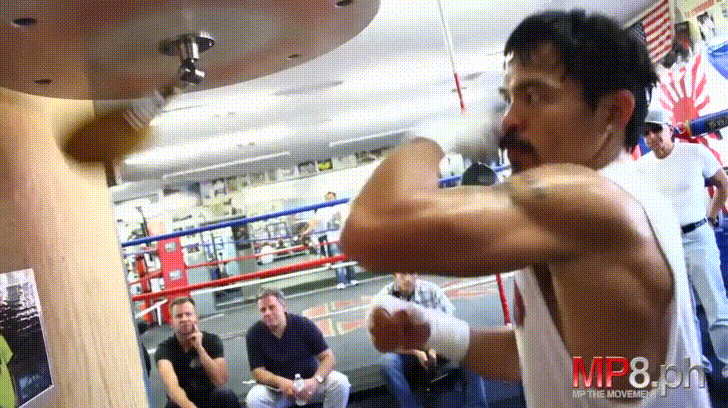 Fighters use speed bags to improve their stamina, speed, and hand-eye coordination. Punching bags like these are small, teardrop-shaped items hanging from the platform, with the bottom of the bag directly beneath the user's chin and meant to be hit quickly with the bag bouncing back.
Using speed bags helps fighters to become more confident in their abilities to keep their hands up, improve their hand-eye coordination, and learn to shift their weight between their feet when punching.
This may be the least effective among the punching bags that bounce back. But, it is still an excellent tool to improve defensive skills such as head movements.
---
To conclude
Sparring is the closest thing to a real fight for any serious martial artist. Sparring is an excellent way to advance your training. Sparring is a mental exercise more than a physical one. This helps you prepare for combat by placing you in different combat scenarios.
However, with punching bags that hit back, we can substitute a little bit a real sparring partner. We can practice offensive and defensive techniques that we can use in a real fight. Plus, it is great fun.