Is your kid doing some sort of martial art like boxing or kickboxing and the wants to train at home? Are you fed up with stopping your children beating the furniture? Or you just want something for your kids that force them to move more instead of sitting in front of the TV?
Well, a kids free standing punching bag is an excellent option for any of the mentioned cases. And, I'm not talking about inflatable rubbish, but a real heavy bag made for children that will support their skill and physical development.
The best children's punching bag right now is Century Kid Kick Wavemaster which is designed for youth keeping safety and training in mind. It is a small version of a real free standing heavy bag for adults. With that, young boys and girls can enjoy the same benefits.
What are the best features?
1. No installation is required
A hanging heavy bag is also excellent boxing equipment, but many of us do not have the place to hang it. Once you set it up, it will be there. Plus, it requires space to use comfortably and safely since it swings.
Kid Kick Wavemaster does not need any installation at all. You just need to fill the base with water or sand, and it is ready to use. You kids can even beat in the living room. And, then you can store it in the corner of the room.
And, if you have a garden, you can take it outdoor as well. Just do not let it be wet because it damages the inner filling.
2. Durable shell and optimal filling
The cover is made from durable nylon, and the filling is high impact foam.
The filling is not too soft nor too firm, so it will not hurt the hands of your children, but still provides a surface that supports their martial art development. Such filling is perfect for both punches and kicks.
The nylon cover is not rough, so it does not bruise the skin. Plus, it is easy to clean. But, kids boxing gloves are recommended.
3. Adjustable height
An advantageous feature of this children's free standing punch bag is that it adjusts from 37″ to 52″ in 4 levels. Thanks to this function you can find the optimal height for your kid to kick or punch it. Also, he or she can use it for long years.
What you should know
1. About the base
To get the maximum stability, I suggest you fill the base with both water and sand. This way it will be really heavy so the bag will not fall over or wobble.
Keep in mind that if you put it on a somewhat slippery floor, it moves no matter how massive the base is. The best is if you get a rubber mat under it. It costs only a few bucks.
Also, as you see the base is rather big, 22″ diameter x 12″ tall, so if it is entirely filled the Century Kid Kick freestanding heavy bag is going to be heavy. So, moving it around requires the dad. On the other hand, that is why it is going to be stable.
2. What age is it good for?
The striking surface is 26 inches tall and 10.5 in diameter. But, as I mentioned before you can adjust the highness from 37 to 52 inches.
This way this boxing bag is suitable for children between the age of 4-14. But, that depends on how tall your kid is.
Over the age of 15, I would not buy it, since the striking surface and highness is not enough for them. Plus, teenagers are stronger so it may fall over. For such an age, and an adult free standing bag is a much better option.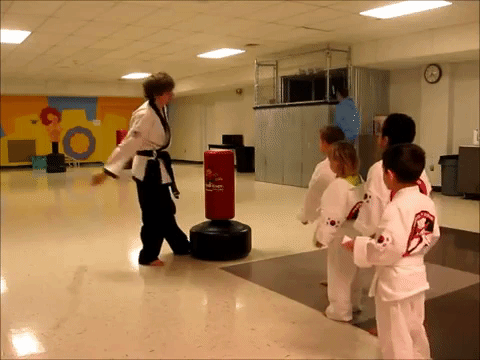 Verdict
Compared to an inflatable bop bag, I would never buy such a toy, this kids free standing heavy bag is a far better option. It is real martial art equipment that develops both your children's physique and martial art technique. It cost more but worth every penny, but the best punching bag for youth among the standing ones.
Summary
Durability

User Experience

Price