There are thousands of punching bags to choose from, and it can be confusing to pick the best one for beginners. These bags come in various styles and shapes and different weights, so it's important to choose the right one.
Within this guide, I'd like to help you find your first punching bag that will help you get started with boxing or other martial arts.
👍 Recommended bags
Now on Sale
Hyperflex Strike Bag (EA)
Designed to improve agility, cardiovascular endurance, and total body conditioning, this bag excels in all three areas.
---
What is a good punching bag for beginners?
You can achieve better fitness levels and health by using a bag. Punching exercises require a great deal of physical endurance and strength. Typically, this form of full-body engagement burns calories and strengthens muscles effectively.
Training with heavy bags can improve your martial arts techniques, increase your power, balance, and coordination, and reduce stress. 💪
I believe that the punching bag is one of the most useful pieces of exercise equipment for a home gym.
---
🏆 The best types of punching bags for beginners
There are a wide variety of bags that are suitable for beginners.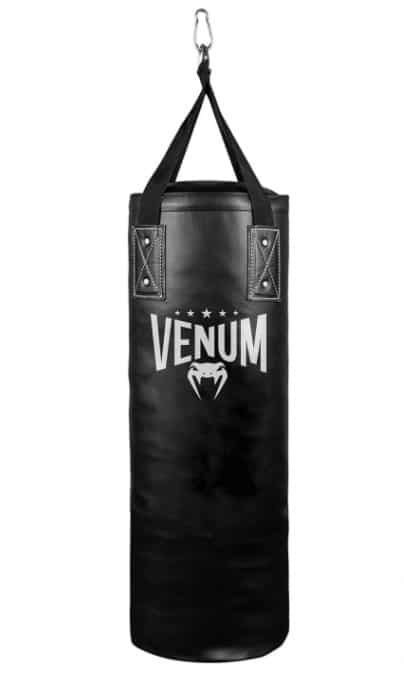 Hanging heavy bags are used in boxing, kickboxing, MMA, and other combat sports. Heavy bags are typically 4ft-5ft tall. They are perfect for beginners since they are reasonably priced, and they can be used for most punching techniques, such as jabs, straight punches, hooks, or even kicks. It will need to be hung safely, however. If you don't have access to a reliable anchor point, a punching bag stand would be a wise choice.
---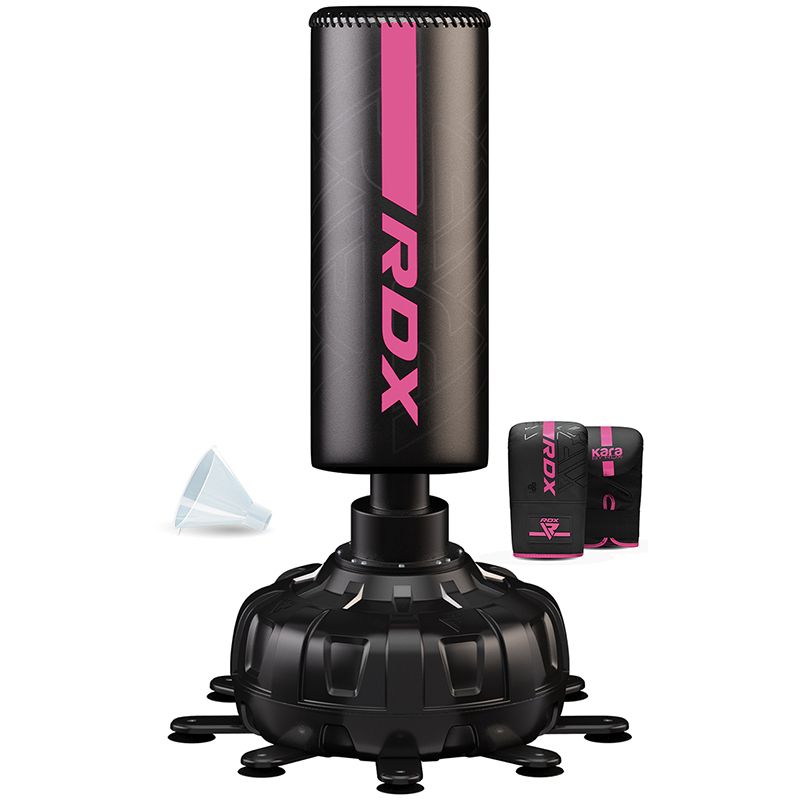 Bags that can stand alone without being mounted are free-standing bags. A heavy base is typically attached to them to weigh them down. You can use these bags for practicing kicks and punches or in tiny rooms. Because they're made of softer foam filling, they're also easier on your bones and knuckles. Unfortunately, they do not swing as well as hanging bags, so you cannot practice offensive and defensive skills so well with them.
---
In addition to speed, hand-eye coordination, and rhythm training, you can move or use proper strikes with the double end bag. Because it swings back so rapidly, it's suitable for practicing blocking and counter-striking as well. They are quite affordable and easy to obtain for a beginner. It will need a dedicated space since you will need to attach it to the floor and ceiling. These types of bags are great to improve your punching techniques and boxing combinations.
---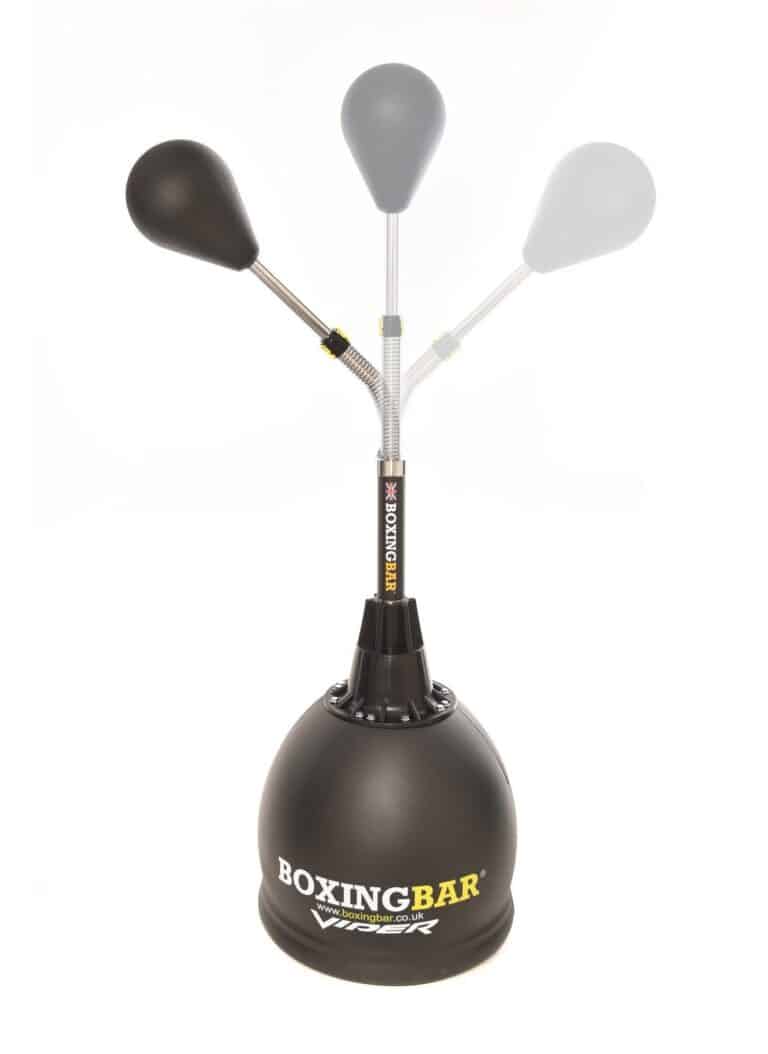 A reflex bag, or cobra bag, has a smaller target and includes a spring that encourages it to bounce back quickly when it is hit. This bag can help you develop perfect accuracy, precision, and fantastic speed. You can practice all the punches with it, such as hooks, uppercuts, jabs, and combinations, plus slipping, weaving, and other defense drills. However, you can't always use too much power on them. When not in use, they are small enough to be easily stored. The punching bags of this type are excellent for beginners as they are easy to use and can help them learn the correct form of punches and combinations. It's also an excellent alternative to speed bags.
---
Best weight punching bag for beginners?
You should use a heavy punching bag about half your body weight. If you weigh 170-pounds, an 80-pound bag would fit you. It is recommended that hanging bags have an average weight of 80 pounds for most adults.
However, I would recommend 20-30% lighter heavy bags for beginners. It is better to focus on learning proper punching forms, footwork, and other boxing moves at the beginning rather than concentrating on punching power. If the bag is lighter, you'll have to move around more and practice more techniques. Also, your hands will be safer with them.
---
✅ Reviews of the Best beginner Punching Bags
#1. 70-Pound Heavy-Bag Kit
💲 Best affordable punching bag for beginners
Price: $106.98 | Rating:
Kit includes heavy bag gloves and hand wraps.
A bungee cord provides added resistance.
This small unit measures 52 inches high, making it perfect for apartments and small spaces.
It has an adjustable height chain so that it will fit any height preference.
A 70 lb. heavy bag that is lightweight.
It is possible to fill it up to 100 pounds.
To hang on the chain, nylon straps are used, so the noise is less.
It is filled with soft, padded filling for safe punches.
The cheapest option.
Everlast's 70 lb heavy bag is the perfect lightweight piece of equipment that doesn't feel like concrete. Because it's light and soft, you won't bruise your knuckles.
Poly fibers and synthetic fabric fibers are used in the inner shell. It doesn't wear out quickly, and it absorbs punches well. The exterior is made from polycanvas, so it's durable and keeps its shape.
It can be set up anywhere because it is 52-inches high and 15-inches wide. Besides that, you can adjust the height of the punching bag to suit your height.
To save you the hassle of buying gloves separately, this beginner heavy bag includes a kit with boxing gloves and hand wraps so that you can work out right away.
The product gets high marks from reviewers. There are tons of good reviews for this boxing equipment.
---
#2. Ringside Powerhide 65-70 lb Heavy Bag
🥊 Best boxing bag for beginners who want professional boxing gear
Price: $139.99 | Rating:
It weighs 65 to 70 lbs and measures 14″ by 42″.
With a highly durable classic design and perfect weight distribution.
It is well-shaped and attractive thanks to the Powerhide covering.
1″ closed cell foam liner helps prevent hand injuries.
A chain and swivel are included with the heavy bag.
Ringside makes great boxing equipment that's used for all sorts of combat sports training. It's common in boxing gyms everywhere. With the Ringside Powerhide heavy bag, you can expect some very exhausting workouts.
Despite the bag's shorter length (42 inches) and cylinder diameter (14 inches), there is plenty of space to hit, especially if you are a boxer.
Durable synthetic leather is used for the outer shell, called Powerhide. Having Powerhide on the outside ensures that this bag is attractive and well-shaped for years to come. To eliminate hand injuries, all Ringside-filled bags include a 1″ shock-absorbing foam liner.
All in all, Powerhide is a good choice for beginners. It is a moderately priced hanging bag with durability, a chain, and a swivel that you need to install.
---
#3. Dripex Freestanding Punching Bag
🥋 Best free standing heavy bag for beginners
Price: $155.99 | Rating:
A good deal of height, about 70 inches.
The perfect tool for punching, kicking, and cardiovascular training.
This product is suitable for floors of any type. The stability is excellent.
It is easy to install and mobile.
Quieter than other upright bags.
A buffer layer protects the hands. The cover is multi-layer.
Rebounds better than other free-standing punching bags.
1-year warranty on everything.
Designed with an exclusive high-quality construction covering multi-layers, Dripex's punching bag will provide you with more strength and minimize the chance of your wrists and hands getting injured. Additionally, the cushion's comfort and durability make it excellent for a natural rebound.
Dripex bags use dual shock absorbers made of PVC that are attractive and durable. Strength trainers can benefit from less vibration because it reduces interference.
A smooth surface is no problem, built with 12 strong suction cups beneath a rounded ABS base. It weighs about 182 pounds filled with sand, and 137 pounds filled with water. The best material for filling is sand.
The Dripex free-standing bag is a convenient and well-constructed item that is an excellent choice for beginners.
---
#4. Century Original Wavemaster
When full, it weighs about 250 pounds.
It is made out of a high-density foam surface and heavy-duty vinyl shell.
Fill the base with sand or water.
Portable, self-standing, and easy to assemble.
For fighters and trainers of average height.
47-68 inches of height adjustment.
Designed from high-density protective foam and durable vinyl, the original Wavemaster punching bag offers ultimate comfort. A benefit of these free-standing bags is that they are adjustable and can be positioned from 47 to 68 inches high. As a result, people of varying heights can use it.
It has an approximate weight of 250 pounds when it has been filled with water or sand.
As a durable and reliable vinyl cover, it won't suffer holes or tear easily. In the bag is foam filler to absorb force. Despite that, wearing hand protection for beginners is always a good idea.
It has a diameter of 13 inches, much smaller and thinner than most heavy bags. But for beginners, that diameter is enough.
Anyway, all the other Wavemaster punching bags are excellent options for beginners.
---
#5. Everlast Hyperflex Strike Bag 👊
Punching bag made of foam instead of air.
This is an excellent value for the price.
Height is adjustable.
It has bottom and top springs that lock so that the workouts can be more versatile.
Materials of good quality and durability.
Good choice for speed.
Boxing equipment from Everlast is one of the best available. The Hyperflex Strike Bag is Everlast's attempt to make a more durable reflex bag than the rest.
A pair of springs have been added to the pole at the top and bottom for added durability. A lock can also be used to secure the springs. With this setup, you can put the pivot point at the top or bottom. This setting is great for practicing different techniques. We've got three workout settings: speed flex, straight flex, and hyperflex.
You can customize the height of the Everlast freestanding reflex bag. You can adjust the bag from 4'8″ to 5'6″.
The foam padding makes up the punching bag. Because it is dense, it is quite resistant. It's a significant improvement over reflex bags that are empty and need to be filled with air. Foam bags require even less maintenance. In addition, the density foam outer shell has a greater resistance to impact.
This cobra bag is an excellent choice for beginners or people who do not have enough space in their boxing gym to hang a boxing heavy bag.
---
FAQ
👊 What are the best punching bag workouts for beginners?
Beginners' boxing bag workouts are a popular way to get fit. Since it has so many uses, the boxing bag has become one of the most versatile pieces of equipment. In addition to building cardio, strength, and endurance in the upper body and speed and flexibility, hitting the bag is great for improving fitness. The proper use of a punching bag requires some practice, though.
You have to:
Become familiar with the basics of boxing and common boxing techniques.
Make sure you learn the proper boxing stance.
Become familiar with footwork.
Learn how to punch and mix combinations in boxing correctly.
Lastly, learn to hit heavy bags. Take a look at the video:
The vast majority of combinations consist of as few as three or four strikes since heavy bags are beneficial to training punching power. In addition, heavy bag workouts do not have to last as long as boxing workouts. Don't overdo it when you're just starting to avoid over-training your muscles.
You will need heavy bags, gloves, and wrist wraps for a beginner's heavy bag workout. Your bag should have space around it so that you can move around it.
To get started, you only need three rounds of heavy bag training with power strikes. Start by warming up and finish with cooling down.
---
🥊 What are the best heavy bag gloves for beginners?
Larger gloves are best for beginners because they protect against injury. Skilled boxers usually prefer lighter-weight gloves as they gain skills. It is vital for boxing gloves to feel comfortable yet have a tight fit. While wearing wrist wraps, fingers should sit near the top of the gloves.
---
🛒 What to look for when buying a punching bag?
The exterior material
Standard punching bags usually come in genuine leather or synthetic materials. Classic leather punching bags are still arguably the best, loved for being so durable and comfortable. The downside is that leather is more expensive than most faux leather products.
Many punching bag brands use synthetic leather to get a similar feel as leather without the high cost. Nevertheless, synthetic punching bags offer advantages. Vinyl and nylon, for instance, are more resistant to moisture and very strong materials.
There are a few bags made from canvas. Canvas punching bags are great for low-use scenarios, but they're less durable than leather and synthetic leather.
---
The filling of the heavy bags
Filling determines how firm, comfortable, light, and even expensive your punching bag is. Beginner punching bags are normally prefilled. However, if the fill has disintegrated or had a leak, you may have to buy filler to refill it.
Punching bag fillers include:
Clothing/rags: We can easily fill a bag with textile and tweak density as needed. On the downside, it sinks with time. To give the bag a homogeneous hit surface, use small pieces of clothing.
Sawdust makes bags lighter and softer. It's also a cheap filling material.
By adding foam, you can lighten and soften a bag. In addition, if we layer it, it prevents the fabric from settling.
Rubber mulch prevents clothes from sinking and keeps boxing bags flexible and maneuverable.
With just rice, a light bag can be made. Customize your bag using it along with other materials.
Sand: Good to make the bag heavier. You shouldn't use it alone.
---
Dimensions and weight
Heavy punching bags 4-5 feet long are the best for boxing training. 6-7 feet is the length of a bag needed to practice kicks, such as Muay Thai bags.
The bag should be about half of your weight, as I mentioned previously. Beginners can use lighter bags. On the other hand, in order to provide adequate resistance when training with kicks, we must use heavier bags.
---
To conclude
By following these guidelines, you can find the best heavy bag for beginners that lasts a long time and provides a great workout. If you still have questions look around the website for beginner's tips or get in touch with us.